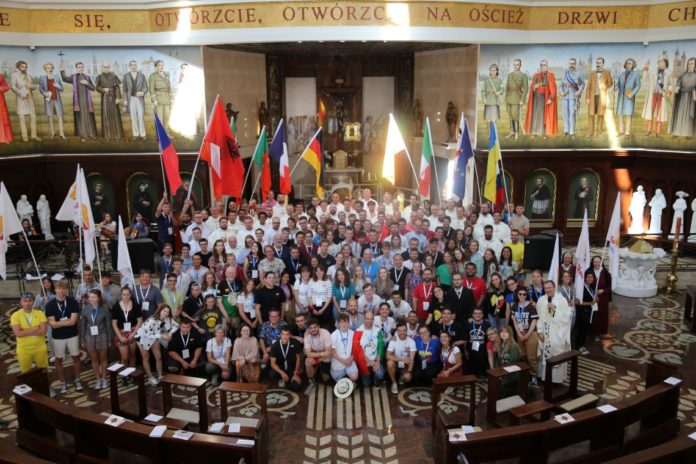 "Go and Share!" was the motto of the concluded XII European Meeting of Redemptorist Youth, which took place in Toruń at St Joseph's Parish from 27-31 July 2022. It brought together 250 young people from various Redemptorist youth ministries from 12 countries of our continent.
The meeting recalled the central theme of the Redemptorist charism, which is the proclamation of the Good News. The following days were dedicated to the themes of the kerygma, the community – the Church and evangelisation itself. The themes ran through the liturgy – morning prayer, the Eucharist, the catechesis preached in groups and the discussions afterwards, and the community part, where it was also possible to express one's faith and youth.
The gathering began on Wednesday, 27 July, with a solid liturgical-artistic accent: a praise concert prepared by the 60-plus-strong music ensemble and choir "Or_kiestra" from Krakow under the baton of Justyna Zawiślan, which was also broadcast live on Trwam Television.
MORE: Concert at the beginning of the European Meeting of Redemptorist Youth [VIDEO].
Connection with the local Church in Toruń was expressed through Thursday's rosary pilgrimage to the local Cathedral of St Johns and Mass presided over by the local Ordinary, Msgr Wiesław Śmigiel. On the evening of that day, there was also a dance for all participants.
There was also a visit to the sanctuary of the Blessed Virgin Mary Star of the New Evangelisation and St John Paul in Toruń, as well as to the Memorial Park and the campus of the Academy of Social and Media Culture next door. Praying there – the Divine Mercy Chaplet in different languages and Mass – was also an experience of how God works in the history of the Polish nation. The day culminated with the "Evening of Mercy" – deeply experienced by many participants – adoration of the Blessed Sacrament with the possibility of the sacrament of reconciliation.
In addition to prayer and catechesis, the penultimate day was filled with workshops: media – conducted on Trwam Television, the use of social media in evangelisation, volunteering and learning Celtic dance. In the evening, there was the traditional youth festival with a presentation of the various youth ministries in Europe.
The meeting ended on Sunday, 31 July, with a solemn Mass celebrated with local parishioners.
The meeting was attended by young people from France, the Czech Republic, Slovakia, Spain, Ireland, Portugal, Italy, Germany, Albania, Belgium, Switzerland and Poland. Present were Fr Pedro Lopez CSsR, General Councillor, Fr Johannes Römelt CSsR, Coordinator of the Redemptorist Conference of Europe, Provincial Superiors from Italy, Spain, Slovakia and Poland, as well as 20 Redemptorist pastors and seminarians.
The course of the event could be followed on social media:
http://www.instagram.com/goandshare.eu
http://www.facebook.com/goandshare.eu
source: www.redemptor.pl
See an extensive photo gallery from each day of the meeting at www.redemptor.pl (scroll down the page)