Hispanic immigrants voice their struggles as they pray on the streets of Highlandtown
When Jesús Mena and her family of seven lacked a place to sleep in Usulután, El Salvador, she found herself desperate to escape and provide a better life for her children.
Convinced that migrating to the United States would improve her family's condition, Mena left everything behind – placing her five children in her mother's care.
She arrived in Baltimore in 2005, escaping extreme poverty, but not other issues that came along her way.
Mena's most recent obstacle involves the decline in her mother's health, which ultimately led to her death. Foreseeing her mother's death and the absence of a caregiver for her children, she transported her children to the United States with much difficulty.
Still grieving the recent death of her mother and saddened at not being able to fly to El Salvador to bury her mother because of her immigration status, Mena picked up a wooden cross and walked "the migrant's way of the cross" on the streets of East Baltimore Sept. 22.
She was among 80 Hispanic Catholics, mostly immigrants, who processed from Mena's home parish of Sacred Heart of Jesus/Sagrado Corazón de Jesús in Highlandtown to various stops while carrying wooden crosses, praying the Stations of the Cross and reflecting on immigrants' testimonies about arriving to a new country.
The procession was organized to raise awareness of National Migration Week, which takes place Sept. 19-25 this year and has been observed annually since 1980. NMW ends with the Vatican's celebration of the World Day of Migrants and Refugees, which always falls on the last Sunday of September.
Redemptorist Father Alipio Flores, associate pastor of Sacred Heart of Jesus and its mission church of St. Patrick in Fells Point, said the main obstacle local immigrants encounter is the lack of legal documentation, which leads to work exploitation and the shortfall of health insurance.
"Immigrants around here put up with everything and anything just to put food on the table," Father Flores noted. "This event is an opportunity to make our voices heard; for authorities and civilians to recognize our rights."
The Redemptorist priest, a native of Altiplano, Bolivia, who was ordained in the Diocese of Potosí, Bolivia, also voiced his opinion on a recent incident at Martha's Vineyard that has caused outrage among many migrants.
Florida Gov. Ron DeSantis flew two planes full of Hispanic immigrants from Texas to Martha's Vineyard, Mass., where Democrat politicians often travel for vacation. The immigrants, mostly from Venezuela, arrived on the island Sept. 14 with promises of finding jobs and better life opportunities. Many believe they were tricked by politicians to be part of what some have termed a political stunt.
"It is the poor who unjustly pay for the fight between political parties," Father Flores said.
Héctor Gómez, a parishioner of Sacred Heart of Jesus and leadership member of "Pastoral Migratoria" at his parish, said immigrants often seek advice on how to avoid crime in the city.
"It is us, Hispanics, who are homicide targets in Baltimore," said the native of Santa Bárbara, Honduras. "We often see bloodshed of Hispanics on the streets."
Not only undocumented immigrants face challenges, but also those who arrived legally.
A native of Esquipulas, Guatemala, Grand Knight of Columbus José Guillermo Ramírez of the St. John Neumann Council at Sacred Heart of Jesus experienced racism in the workplace.
He arrived legally in the United States at 17 to study higher education and eventually graduated from the University of Virginia in Charlottesville, Va. He later worked for Loyola University Maryland in Baltimore as director of project management design and construction until his retirement.
Ramírez said some of his Caucasian subordinates struggled to work under a "Latino with an accent" and would bring up racist comments to which he would put an end by saying, "See you at human resources."
According to Lía García, director of Hispanic Ministry in the archdiocese, immigrants are unfairly depicted as criminals.
"When we listen to their stories on why they left their countries, we will be able to recognize the dignity of the human person in every immigrant and refugee in their dire need," she said.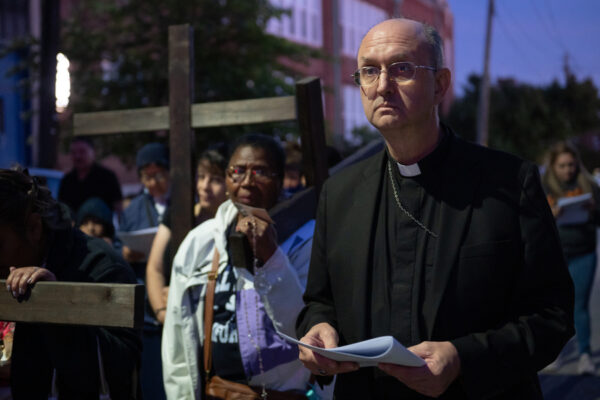 Auxiliary Bishop Bruce Lewandowski, C.Ss.R., vicar for Hispanic ministry, said National Migration Week is a time to honor the lives of all those "who have been forced to migrate or take refuge in a foreign land."
At the start of the procession at Sacred Heart of Jesus, he prayed for peace in the world and that all world powers realize that war and terrorism are not the solution to political conflicts.
"We walk the Way of the Cross to join in solidarity with all the communities and people who are living the hard experience of migration and refuge," said Bishop Lewandowski, a former pastor of Sacred Heart of Jesus, "who leave their land and family to protect their lives and seek better living conditions in this country."
(September 23, 2022, By Priscila González de Doran
Special to the Catholic Review – catholicreview.org)