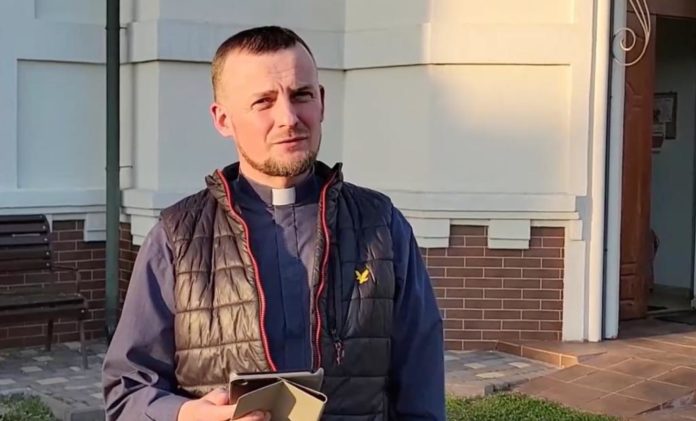 Freshly discovered mass graves in eastern Ukraine, an explosion on the Crimean bridge in Kerch and further explosions in the south-eastern Ukrainian city of Zaporizhzhya: the situation in Ukraine remains precarious and marked by war. The Redemptorist Congregation is trying to help those affected and in need, as Fr. Andriy Rak tells Radio Vaticana.
Fr. Rak is the Provincial Superior of the Redemptorists of the Lviv Province. He is currently on a visit to Rome. "According to our charism, we are trying to help on the ground," he says in an interview with Radio Vatican. In Lyman, eastern Ukraine, which the Ukrainian army has liberated, numerous bodies have apparently been buried in a mass grave. "Some of us have stayed with the people in the areas currently occupied, in eastern Ukraine and in Crimea," the Redemptorist said. After an explosion, a severe fire broke out on the Crimean bridge on Saturday morning, which since 2018 has connected Russian territory with the Ukrainian peninsula of Crimea, annexed by Moscow in violation of international law. The volatile situation is a great challenge for the Congregation, says Father Andriy Rak: "I think the important thing is to remain flexible, depending on what the day brings. So it is important to maintain or develop this sensibility because the situation changes quickly and unexpectedly. The most important thing is to open up and respond quickly to the needs that arise."
A series of explosions also rocked the eastern Ukrainian city of Kharkiv early on Saturday morning. The AP news agency reported that huge columns of smoke rose into the sky. According to the report, there was a series of secondary explosions.
"We have opened our houses for refugees, internally displaced persons," said Father Rak. At the moment, he said, there are three fixed houses where they will take people. But new facilities are now being sought as winter is at the door. "We are also sending humanitarian aid to the East," he adds. The Redemptorist Congregation, he says, sees it as their primary task to provide chaplains, celebrate services and administer the sacraments. But one should not close one's eyes to reality: "Russian politics and politicians are somehow trying to find sensitive spots in Ukraine and somehow attack them accordingly. And that is this energy crisis and the problem with heat, gas and water and everything necessary for life that is important for people's lives. And that is, I think, also a challenge that we are facing right now."
(Vatican news)