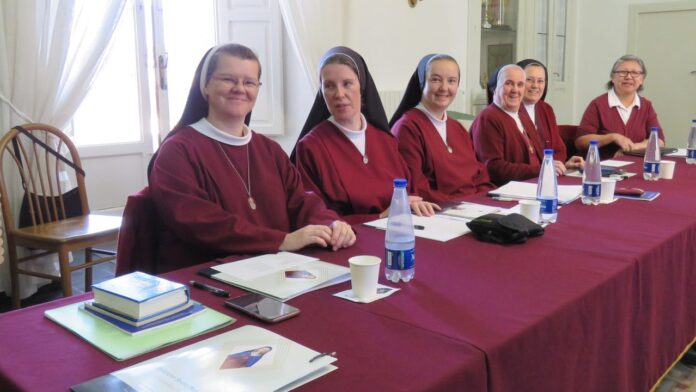 The first ASSEMBLY of the 'BEATA MARIA CELESTE CROSTAROSA' FEDERATION is being held in Scala, the cradle of the two Redemptorist Institutes, from 23 to 31 October 2022.
Sr. Imma di Stefano, authorised by the DIVCSVA (Dicastery for Institutes of Consecrated Life and Societies of Apostolic Life) to convene the first Assembly, as she wrote in a letter to us, "thought it appropriate to organise this first important moment of federal life in Scala, the place where our Order was born and from where it has spread throughout the world! I am certain, that it will be a source of grace for all of us to be able to return to the places of our origins, to begin the federal journey that will offer us new ways to live communion and unity".
The meeting was attended by Federal Assistant Father Peter Chyla, CSsR, and Father Patrice Nyanda, CSsR, Vice-Provincial of West Africa, as a translator for the sisters from Burkina Faso and Angola.
Sisters from South America and several European countries, who are part of the Blessed Maria Celeste Crostarosa Federation, also arrived in Scala. The Community of Scala, with such generosity, care and a sense of hospitality, prepared our stay among them.
The Assembly Meeting is enriched by the people invited. Firstly, His Excellency Monsignor José Rodriguez Carballo, Secretary DIVCSVA, who presided at the Holy Mass and gave us a talk in which he touched on various aspects of our monastic life, basing his reflection on the Vultum Dei Querere. He emphasised, among other things, the importance of ongoing formation, to be witnesses of the beauty of life, mutual love, and our responsibility to update the charism to make it meaningful in today's Church.
In his reflection, Father Sabatino Majorano wanted to suggest something on some points that seem most relevant to him for creative fidelity to the Crostarosian charism, which should be the dominant note in our decisions.
Father Serafino Fiore, CSsR, Provincia Superior of Naples, entitled his reflection: The federation in the spirit of Blessed Mary Celeste Crostarosa.
And we, entrusted to the intercession of our Mother Foundress, are fulfilling the aims of the Assembly, which are:
To elect the President of the Federation
To elect the Federal Council and identify the Bursar
To elaborate on a project for federal life.
The results of the elections are as follows.
Sr. Concetta di Stefano (from the community of Scala) is the Federal President of the Federation "Blessed Maria Celeste Crostarosa" for the sexennium 2022 – 2028
The Councillors:
sr Eva Hanusova (Kežmarok, Slovensko)
sr Aura Sotomayor Galvez (Chulucanas, Peru)
sr Marie Veronique Oubda (Diabo, Burchina Faso)
sr Grażyna Raszkiewicz (Foggia, Italy)
The Federation bursar: Sr Anna Maria Ceneri (Sant'Agata de Goti, Italy)
The Federation secretary: Sr Grażyna Raszkiewicz (Foggia, Italy).
Currently, in an atmosphere of mutual exchange and listening to the Holy Spirit, we are working on the Project of the Life of the Federation.
information and photos submitted by sr Kazimiera Kut OSsR