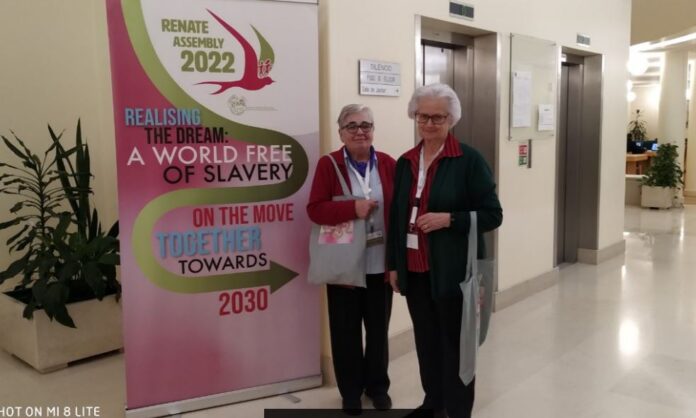 Assembly of RENATE (The European Network of Religious Against Trafficking and Exploitation), 2022
A Redemptorist presence in the Anti-Trafficking Network, indeed, during 13-19 November, Sisters Maria Luisa Rodriguez (Lisbon) as a member of CAVITP (Comisão de Atenção a Victimas de Trafico de Pessoas) belonging to CIRP (Conference of Religious Institutes of Portugal), and Rosario Bolaños (Italy) participated in the third Assembly of RENATE, which was held in Fatima, Portugal.
RENATE is a European network of religious men and women committed to the issue of human trafficking. RENATE has taken this Assembly as an opportunity to consider this reality at present and to discern the commitments that in the immediate future will develop their dedication and efforts to eradicate human trafficking from our world, restoring hope to the victims/survivors.
On the 17th, a group of 30 assembly members visited the Obra Social das Irmãs Oblatas in Lisbon, in order to learn about the reality of the women in prostitution in Lisbon who have connected with us Oblates and the possible relationships or signs of the crime of trafficking in human beings that we are encountering. Their questions, points of interest, reflections and even assessments were the object of dialogue and expression of diversity, a clear expression of the multiculturalism of RENATE.
The Oblate Sisters who attended the meeting report: "A balanced distribution of face-to-face and online presentations, group work according to languages, prayer, theological reflection, led us to develop the objectives, concluding on Friday 18 with a renewed script to be developed by the new leadership of RENATE".
Maria Luisa Rodriguez
Fatima, November 2022
RENATE – "Working tirelessly to rehabilitate victims, free the world from sexual and labour exploitation, slavery and forced organ removal".
RENATE was established by a group of religious representing several different congregations working against human trafficking in Europe. RENATE network with Talitha Kum, is the international network of sisters working against human trafficking. It also collaborates with many other networks inside and outside Europe. Networking is the strength of RENATE.