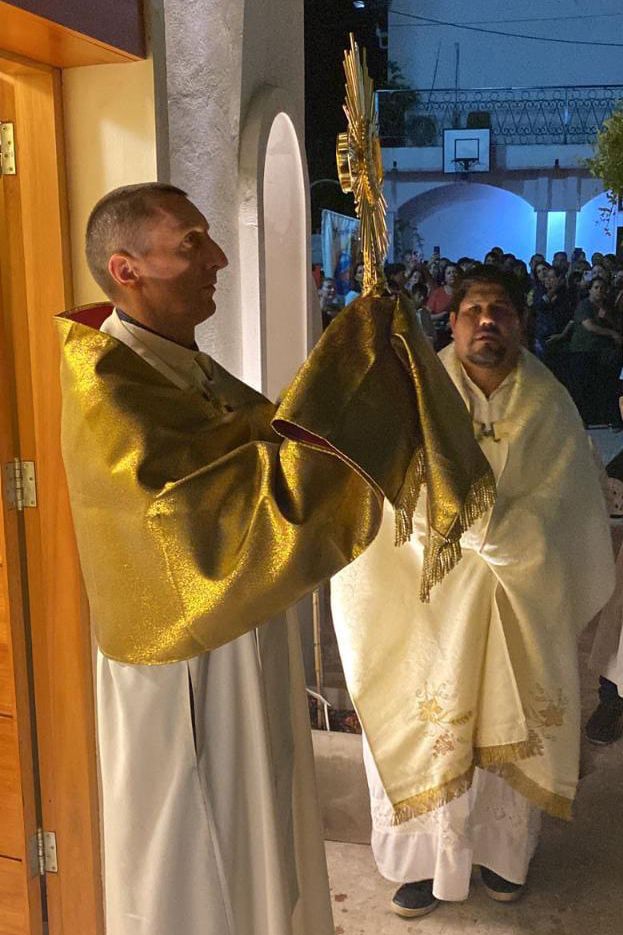 On Sunday, 27 November, a perpetual adoration chapel was inaugurated in the Sacred Heart of Jesus parish at Villa Ángela, Argentina. The celebration began at 6 p.m. with adoration, testimonies and the welcoming of the members of the various chapels (communities), who gathered on San Martin Street in front of the parish church.
The Mass presided over by parish priest Fr Marcin Zubik, CSsR, a Polish redemptorist ministering in the Viceoprovince of Resistencia, brought together a large number of people. After the Eucharist, there was a procession around the town's central square, with a blessing at the four altars and the introduction of the Blessed Sacrament into the chapel.
The dream of building a chapel of perpetual adoration had been in the hearts of residents for a long time. In June this year, construction work began. Then, in October, the parish community experienced a Eucharistic mission preached by lay missionary Daniel Salvucci. After the mission, almost 1,500 people signed up for adoration, choosing a day and time to keep vigil before the Jesus-Eucharist. Those responsible for coordinating the adoration (general coordinators, shift leaders and captains of the hour) were then appointed to fill the 24 hours of each day of the week.
Finally, on 27 November, starting the new liturgical year, the big day arrived, and with emotion, the faithful accompanied the introduction of Jesus-Eucharist into the chapel.
Jesus heals, renews, sanctifies, and liberates. We thank God for this time of grace and blessing for the whole community and pray for perseverance and faithfulness in being before the Lord.
o. Marcin Zubik CSsR, Argentina/ed.
(redemptor.pl)