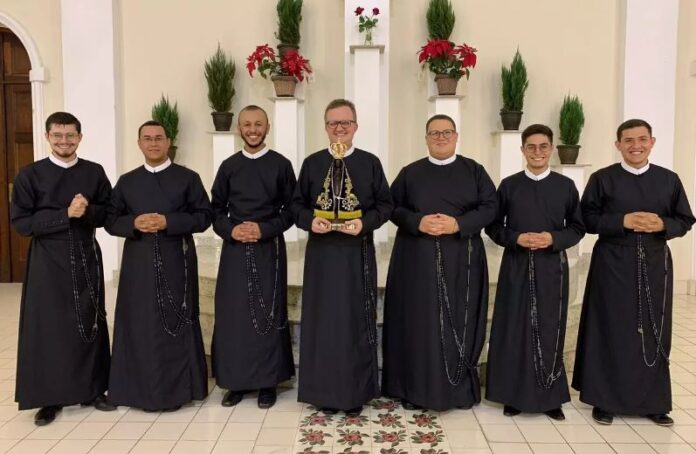 The Church of Santa Terezinha, in Tietê (SP), hosted the celebration of the first religious profession of the Redemptorist missionaries who took the vows of chastity, poverty and obedience.
Six young men have become brothers on the path to the priesthood, and one has become a religious brother. The celebration was presided over by Fr. Marlos Aurélio, C.Ss.R., Provincial Superior of the São Paulo Province, concelebrated by the master of novices, Fr. Pedro Paulo Dal Bó, Fr. Faustino Calcina, and the other missionaries.
The newly professed Redemptorists are André Brisola Junior, Gabriel Rijo Simoa, Matias José Pereira, Paulo César Andrade da Silva, Raylan Silveira de Faria and Wesley Cordeiro Prado and Gilson Gaigher Junior, who is part of the Adult Vocations project.
Three of the new religious completed their novitiate at the Seminary Santa Teresinha de Tietê: bro. Gilson, Paolo and Raylan; Andrea and Matias did their novitiate in Argentina; finally, Gabriele and Wesley did their novitiate in Colombia. During this novitiate formation, young men receive further preparation for admission to their first religious profession.
During the celebration, the novices put on the Redemptorist habit for the first time. They received a 15-decade rosary with a medal with St. Alphonsus on one side, Jesus the Redeemer on the other, and the cross, thus becoming missionaries of the plentiful Redemption.
(a12.com)
You can watch the celebration online: