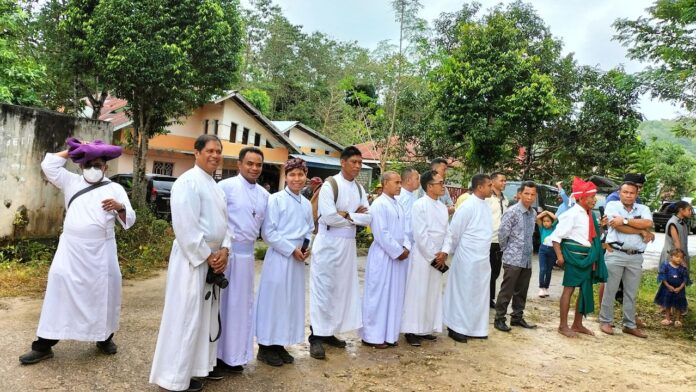 The rain that had been falling all night had stopped. However, the drizzle in the morning persisted when the mission team departed from the Mission House in Wanno Gaspar. Even so, the progress of the missionaries to carry out missions remains blazing.
On March 5, 2023, the second Sunday of Lent, we opened our popular mission at the Station of St. Herman Yosep Waimamongu, St.Klemens Katiku Loku Parish, Central Sumba. In such weather, the people's enthusiasm to pick up the missionaries also did not subside.
The missionaries were escorted from the parish by a group of people. Upon arrival at the church's gate, the missionaries received a welcome greeting according to the customs and traditions of receiving official guests in Sumba, namely "Wara" or "Oka".
The missionaries team consists of Fr. Novri Tse – head of the team, Fr. Antoni Koten, Fr. Willy Ng Pala, Fr. Yosep Manu Lena, Fr. Paul Nuho Kelen, Fr. Imanuel Gesi, Fr. Laurens Lengari, Bro. Joseph Duong (Oceania) and Emanuel Ade. The group was accompanied by Vicaris Provincial, Fr. Marianus Dapa Talu.
After wearing the welcome cloth, the missionaries were invited to enter while accompanied by the Kataga dance. After a short break, the Eucharistic celebration of the launching of the mission began, led by Father Vicar Provincial.
In his sermon, referring to the mission's theme "Arise and Move" (cf. Luke 7:14), Fr. Marianus invited the congregation to participate actively in the activities of this mission:
"We are called and moved to be a blessing. Leave the old zone that keeps us from progressing. For us, obedience to God is a priority. The mission is a call to be a blessing. It is a call to listen to Jesus Christ, the living Son of God. We are together in this mission, finding, meeting and listening to Him. The mission is a time of listening, a time of change from within," he said.
At the end of the Eucharistic celebration, the parish priest, Fr. Laurens Lino Maran, entrusted the parish to pastoral care for the next two months the missionaries. After that, the missionaries were introduced to the people according to their duties and responsibilities during the mission.
Also present at the launch of this mission were local community leaders and Marapu religious leaders.
After lunch, the missionaries met members of the lay missionary team. They planned together activities for families at this station, scheduling to visit them and spread the word about the mission.
In the afternoon, the missionaries continued to meet with the children and youth groups. The first meetings aimed to get acquainted and plan activities to be carried out in the next eight weeks until the mission concludes at the end of April.
Get up and move!
Fr. Willy Ng Pala, CSsR