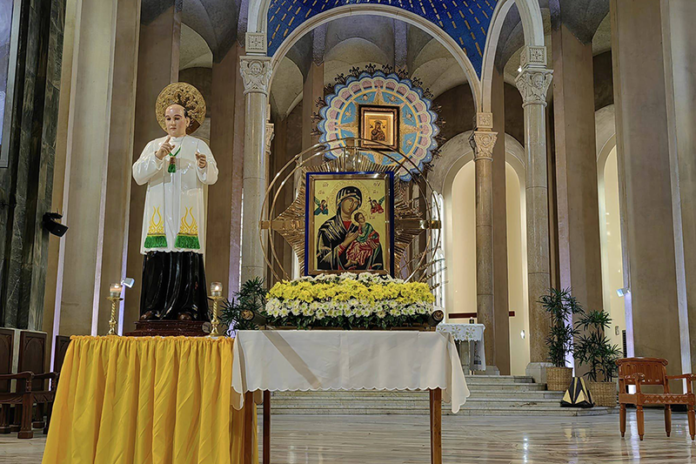 Annually, on June 27th, the Congregation of the Most Holy Redeemer (Redemptorists) and Mary's devotees across the globe observe the solemnity of Our Mother of Perpetual Help. The icon's history is intertwined with the Redemptorists' history, as over 150 years ago, Pope Pius IX sent the missionaries with a mandate to make her known to the world. Subsequently, wherever the Redemptorists travel, they consistently work towards promoting devotion to Our Mother of Perpetual Help.
If one has the opportunity to visit the Philippines, it is recommended to visit the National Shrine of Our Mother of Perpetual Help, known as Baclaran Church, located in Manila. This shrine is one of the most renowned in the Philippines. Each Wednesday, up to 12 Novenas followed by masses are conducted to pay tribute to Our Mother, starting at 5:30 am and ending at 7:30 pm, with each Novena lasting between 30 to 40 minutes. Thousands of individuals, particularly on the first Wednesday of every month, come to Baclaran Church to show their devotion to Our Mother of Perpetual Help.
Alternatively, if one has the chance to visit Singapore, one must not miss the chance to visit Novena Church, or "Nhà Thờ Tuần Cửu Nhật" in Vietnamese. The name "Nhà Thờ Tuần Cửu Nhật" refers to the nine-day prayer commonly used to honor Our Mother. The weekly Novena is held on Saturdays and draws many Catholics and non-Catholics alike.
In Vietnam, three significant shrines are named after Our Lady of Perpetual Help: Our Lady of Perpetual Help Shrine in Thai Ha, Hanoi, in the city of Hue, and at 38 Ky Dong, Saigon. Additionally, many people visit the La Mã Shrine of Our Lady in Ben Tre, a place of pilgrimage. The Redemptorist missionaries look after all these shrines and mentioning them highlights the universal devotion to Our Mother under the title of Our Mother of Perpetual Help.
There may be those who ponder: amidst the many confusing titles attributed to the Blessed Virgin, why is the veneration of Our Mother of Perpetual Help so fervent? There are several explanations for this. According to Fr. Thanh Tam CSsR, the devotion to Our Lady of Perpetual Help symbolizes our love for a Mother who is perpetually present, always prepared to alleviate our hardships and cater to our necessities. She is a loving Mother who never abandons us in our struggles. It is our duty to promote her veneration, so that all may come to know the love of the ever-present Mother.
Although multiple aspects of the image attract people's devotion, the most captivating feature – perhaps its essence – is the profound and benevolent gaze of the Mother. As the saying goes, "The eyes are the windows to the soul," and by gazing into the eyes of the Mother, one can discern at least three sentiments emanating from her gaze.
At the forefront of the painting, the Mother's gaze exhibits a gentle, affectionate, sympathetic, and compassionate aura, fixed not on her Son, whom she holds in her left arm, but rather on us, the inhabitants of the world. Pope Francis has noted that the gaze of Mary is an extension of that of the Father, who regarded her as a child and granted her the privilege of being the Mother of God. The Mother's gaze reflects that of Jesus at the Cross, one that delves into our hearts, acknowledges our weaknesses, and absolves our sins. This gaze lets us perceive one another differently, cultivating mercy, guidance, and protection.
Secondly, when we look into the eyes of the Mother, we see that they are serious and resolute gaze. Her gaze is full of love and gentleness, but at the same time, it is also very serious and compels us to move from sin, from addiction, from the darkness, rather than being like those mothers who coddle and spoil their children: "Oh, my poor child, it's okay, Mom will take care of you." No, Mother clearly loves and saves us but does not indulge us.
Thirdly, upon closer inspection, we may perceive a tinge of sorrow in the Mother's eyes, reminiscent of all mothers on earth's pain. Indeed, no mother is exempt from suffering, whether it be for her spouse, her child, or even her grandchildren. Despite this, mothers persevere and bear their hardships for their children's happiness. Mothers remain steadfastly devoted to their well-being even when their children grow up. And so, it is with Mother Mary, who has appeared to us throughout history, issuing numerous invitations to draw nearer to Jesus. At Fatima, for instance, she implored her children to repent their sins and renew their lives. Yet the world remains in turmoil, marked by strife and discord among siblings, broken marriages, ungrateful children, and neglectful parents.
Like at the wedding in Cana, we find ourselves in a state of "want of wine," and our Mother beseeches Jesus, her son, saying, "They have no wine." Just as in the past, thanks to the Mother's intercession, Jesus performed the miracle of turning water into wine; we now turn to Our Mother of Perpetual Help and entreat Jesus to perform this miracle again so that we may be filled with grace, mercy, and faith, and depend on them even more.
Whenever we gaze upon Our Mother's image, we feel a sense of tranquility and protection. Our Mother calls to us, not only in times of peace and serenity but especially in times of turbulence when we need refuge and shelter under her cloak.
Dear Mother Mary, you are here with us, in joys and sorrows, pleasure and pain. You and your children share together bear the pain and suffering. Without you, who can we rely upon? Our lives are full of hardships and suffering, and our families are troubled every day, but with you by our side, we forget all our troubles and enjoy life in this world of exile, looking forward to eternal joy with you in heaven. Amen.
Duc Trung Vu, CSsR