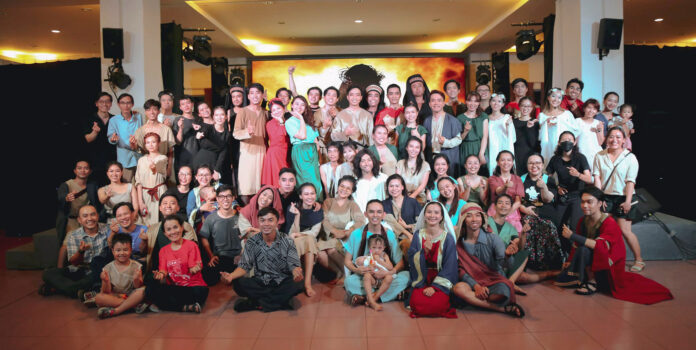 (Vietnam) On the evening of April 21st, 2023, at the St. Anphongso Hall – The Redemptorist Community in Saigon, the Saigon Catholic Musical Group performed the play "Jesus' Unceasing Love," (in Vietnamese "Con Chiên Không Mỏi") which tells of the never-tiring love of God for humanity, as demonstrated through Jesus Christ.
The musical group brings together young men and women full of talent and enthusiasm in singing and performing arts. They conveyed the Catholic faith through an art form that is still new and relevant in Vietnam. Nevertheless, the presence of hundreds of young people at the performance, speaks about their love and enthusiasm for the Catholic musical drama. The audience not only experiences the play through singing and acting but also helps grow in their faith.
The play lasted about 45 minutes but covered major events in the history of salvation from the time of Moses to the death and resurrection of Jesus Christ.
With the seriousness and careful preparation of sound, lighting, and other organizational aspects, the group left the audience with many emotions. Sharing an attending priest at the performance, there were many scenes that made the audience emotional and were in tears. The musical play was of a high standard that was effective enough to move them.
It is hoped that the young people in the musical group will have better opportunities for their overall development and have many opportunities to enjoy the art and grow in faith. Surely such activities will motivate many people.
Fr. Anthony Nam
Pictures: "The Lamb – Con Chiên Không Mỏi"