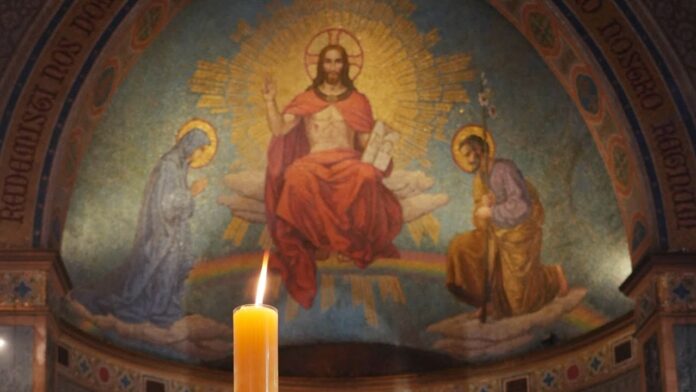 "Easter is the manifestation of the Risen Lord in our apostolic community, so that it may witness his Word of redemption in the mission", says Fr Rogério Gomes in the video message to the Redemptorist Family.
Together with the Superior General, the members of his Council also extend their Easter greetings, emphasising different dimensions of the experience of Easter, celebrated in the religious community and the great community of the universal Church:
Easter is an ability to see the risen Lord with the light of his glory in the face of every brother in the community, despite the daily challenges.
Easter is a new time, a manifestation of community life, a time of hope and closeness that invites us to share the presence of the Risen Lord with our brothers and sisters.
Easter is the moment where we recognise him, together in community, in bread broken and shared, in our common story where we ask each other: Were not our hearts on fire as he opened the scriptures for us?
Easter is the experience of the power and life of the Risen Christ, who, in our midst, with the light of the Spirit, generates us as a community at the service of the whole human family to communicate the life and joy of the Father.
Easter is a time of joy for the encounter with Christ, the Risen Lord, who is gloriously and mysteriously present in the most abandoned and in the community. It is a time to boldly proclaim that we have seen the Lord and touched his body!
Easter is the joyful hope of the copiosa apud eum redemptio that, in renewing and fortifying our community life, opens us to merciful apostolic action.
It is no coincidence that this year's Easter greetings contain so many references to community life. Developing the main themes of the last General Chapter, the General Government decided that this year is dedicated to reflecting on the Redemptorist community, which is the principal context of our consecrated life and mission.
How are we living the experience of the Risen Christ in our Religious Communities? How are we proclaiming Easter to ourselves as consecrated life, to our lay collaborators in the mission and to the people who listen to us? We are called to be missionaries of hope in the footsteps of the Redeemer, and Easter invites us to do so, starting from our Redemptorist communities and extending them to the People of God.
Happy Easter!