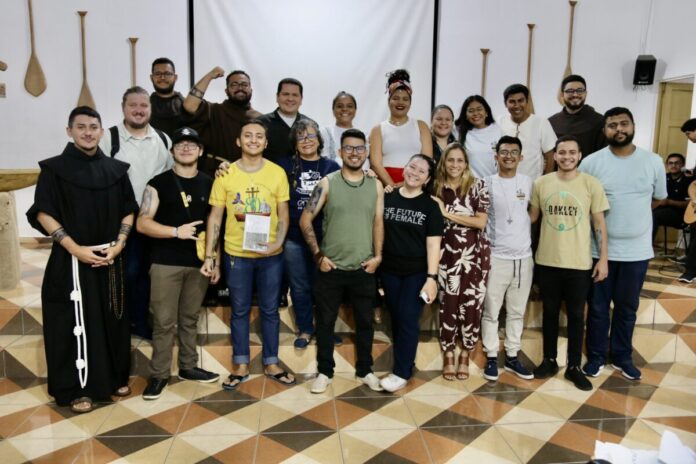 The Maromba Training Center auditorium hosted the Indigenous Peoples Week and Amazon Socio-environmental Seminar from April 18 and 20: Ecclesiastical Routes and 80th Anniversary of the Redemptorist Congregation in the Amazon. The event program included lectures; discussions; short courses; round tables, presentations of various specialists; cultural presentations with indigenous songs, dances, and rituals; a raffle of gifts, and much more, with the purpose of promoting debates on the social, political, cultural and environmental aspects present in the Amazon Region and its impacts on the ways of life of traditional peoples, in addition to reflecting on the possible paths that they contemplate the good life of the people of the region.
The realization of an event of this magnitude, which brought together hundreds of students, professors, seminarians, men and women religious, and various representatives of indigenous peoples, had the collaboration of various institutions, such as the Catholic Faculty of Amazonas, the Redemptorist Faculty Federal do Amazonas (UFAM), in addition to the support of the Movement of Indigenous Students of Amazonas – MEIAM, the Graduate Program in Social Work and Sustainability in the Amazon, the Interdisciplinary Group of Socio-Environmental Studies and Development of Social Technologies in the Amazon – Group INTERAÇÃO, from the research group on Social Management, Human Rights and Sustainability in the Amazon – GEDHS and from the Pan-Amazon Ecclesial Network (REPAM).
According to the organizers, the central theme of the Seminar also had as a backdrop the explanation of the contributions of the Redemptorist Congregation in the Amazon, which this year celebrates 80 years of activity in the Region to Father Amarildo Luciano, Vice Provincial of the Redemptorists, in addition to being responsible for the mission of the Congregation in the country, the event was an experience of dialogue and openness, an opportunity to promote debate on Amazonian issues and also explain a little about the work of Redemptorist missionaries in communion with the local church for eight decades.
More photos and the full program are on the Archdiocese of Manaus website