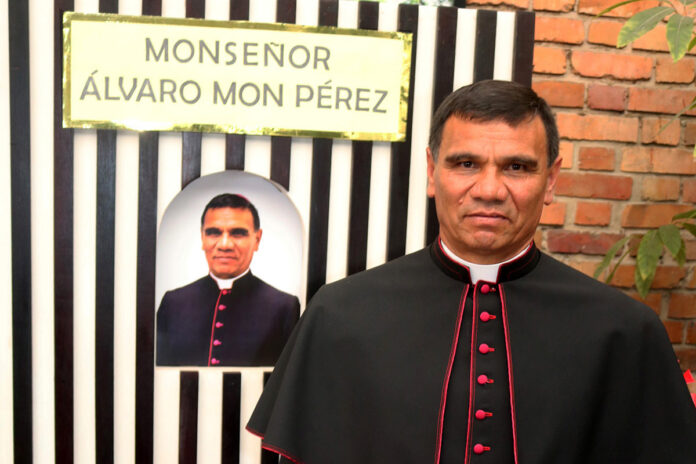 With great joy, last Monday, May 22, the Episcopal Ordination of our Redemptorist confrere Fr. Alvaro Mon Perez, who had already been appointed by Pope Francis as the new Vicar Apostolic of Puerto Carreño in the department of Vichada, Colombia, took place in the Parish of St. Alphonsus Maria de Liguori in Bogota.
The ordination of Msgr. Alvaro was presided over by Msgr. Francisco Antonio Ceballos Escobar, Bishop of the Diocese of Riohacha and also a Redemptorist Missionary. Msgr. Ceballos served as Vicar of Puerto Carreño from 2010 to 2020. During the celebration, 9 bishops and about 40 priests from different parts of the country were present. Jairo Diaz, General Consultor of the Congregation, Fr. David Charters, Secretary of the Apostolic Nunciature and Fr. Luis Carlos Jaime, Provincial Superior.
In his homily, Msgr. Ceballos thanked Msgr. Mon for having chosen him for episcopal ordination and emphasized that both he and Msgr. Alvaro did not study to become bishops but to follow the example of Jesus Christ in preaching the Word of God to the poor as indicated in the Redemptorist constitutions. Msgr. Ceballos recalled that the designation of Msgr. Alvaro as bishop is the result of God's grace and not of human pretension.
Msgr. Ceballos spoke about the pastoral challenges and the lack of consolidated structures in Puerto Carreño. He encouraged Msgr. Alvaro to assume his episcopal ministry with optimism, as a prophet, witness, and servant of hope in this mission territory. He also invited him to be a pastor close to the people, walking with them and prioritizing the mission to the poorest and neediest, following the example of our founder, St. Alphonsus Liguori.
Later, in his speech at the end of the Eucharist, Msgr. Alvaro Mon expressed his gratitude to God for having been born in a believing, humble and hard-working family, as well as for being part of the Redemptorist missionaries. He thanked the affection and prayers of his family, the faithful and sent his greetings and blessing to all those who make up the particular Church of Puerto Carreño, including the faithful, priests, deacons, catechists, pastoral members, and civil authorities.
As a Redemptorist family, we thank God for this great blessing to the Church and the Congregation and we wish Bishop Alvaro all success in his new mission. We thank the confreres, seminarians, lay people, and collaborators who in various ways contributed to the solemn celebration of the Eucharist.
We already pray for the canonical possession that Msgr. Álvaro Mon will perform in Puerto Carreño, Vichada, on June 8, and in which good participation is also expected from his faithful, the ecclesiastical and civil authorities of his jurisdiction.
Fr. Óscar David Tarazona Trujillo C.Ss.R.