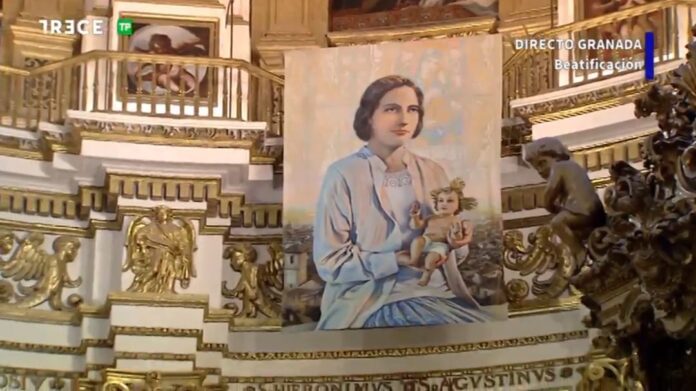 Cardinal Marcello Semeraro, the prefect of the Congregation for the Causes of Saints, has declared the venerable Servant of God María de la Concepción (Conchita) Barrecheguren García blessed. Pope Francis' decree was announced during a Eucharist presided over by the Cardinal in the Cathedral in Granada on 6 May 2023. Among others, the Archbishop of Granada, José María Gil Tamayo, and the Emeritus, Javier Martínez, concelebrated. Also present were the Redemptorists, Fr Zdzislaw F. Stanula CSsR, the Vicar General, Fr Francisco J. Caballero CSsR, Provincial of Madrid, Fr Antonio Marrazzo CSsR, the Postulator General and others. The motto of the beatification was 'A young saint for today's Church'.
In his homily, the Cardinal recalled Pope Francis' words on vulnerability and fragility. This dimension of our life, instead of covering it up or making it up, should be accepted because "in reality, it is a constitutive dimension of the human and, as such, it is a dimension that challenges us and demands answers, since it contains a vocation that is a call to sociality in the form of solidarity."
Our Blessed recognised, accepted, and lived the vocation that comes from vulnerability. She also showed us the method of how to do it. She wrote, "My love shall be a crucified God, my food prayer, my strength the Eucharist…."
[…] This new Blessed also becomes a model for all of us to imitate. Especially to those who are in suffering and in the trial, Blessed María Conchìta, with the offering of her young, short existence and with her total entrustment to God, shows how conformation to Christ, in crucified love, transforms the substance of life, even the most complex and difficult. – said the Prefect of the Congregation for the Causes of Saints.
At the end of the celebration, Fr. Francisco Caballero took the floor to express his gratitude on behalf of the Redemptorists for the beatification and to speak of the spiritual closeness of the new Blessed to the thoughts of Saint Alphonsus de Liguori, who wrote about love for God, suffering and prayer. He said:
This Beatification is our God's recognition of the value of simplicity, the path of life, normality, love and sorrow – in a singular battle – that are present in every Christian life.
The new blessed teaches us that even in complex situations, in the difficult reality of lack and frustration, our God is present, never ceasing to accompany the domestic church, the original nucleus where faith is forged and strengthened.
This Sunday, 7 May, there will be a Mass with thanksgiving for the beatification, presided over by Fr. Zdzislaw Stanula CSsR, celebrated at the Shrine of Perpetual Help in Granada, which houses the tomb of Blessed Conchita.
Read the entire homily by Cardinal Semeraro (Italian, Spanish)
The screenshots are courtesy of the Trece TV channel, from their internet broadcast