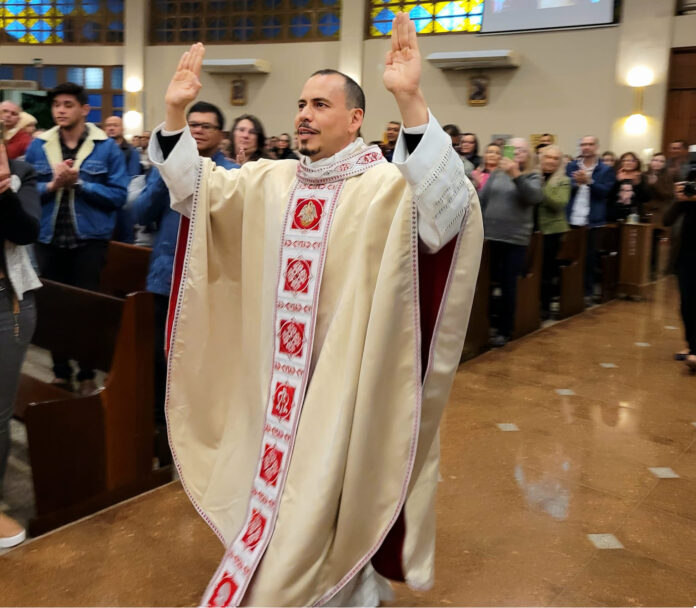 On Saturday evening, July 15, 2023, at the Shrine of the Immaculate Heart of Mary in Nova Andradina, during the celebration presided over by the Bishop of the Diocese of Navirai, Mgr. Ettore Dotti, the priestly ordination of the Redemptorist deacon Sócrates Emmanuel Pereira Pavon, took place.
In March of this year, the religious Sócrates received the diaconate ordination and now, the priestly ordination, with which he finally achieves the goal he has pursued since his youth, when he decided the religious life, which is to become a priest.
The celebration was attended by members of the Congregation of Redemptorist Missionaries of the Province of Curitiba (PR), faithful of his parish of origin, which is Nossa Senhora dos Remédios, in Ladário (MS), belonging to the Diocese of Corumbá (MS), as well as family and friends.
The Mass with the rite of ordination was attended by the Catholic community of the region and was very emotional for everyone.
After the ordination, Father Sócrates presided over his first Mass on the morning of Sunday the 16th, also in the shrine, when the Solemnity of the Most Holy Redeemer, patron of his congregation, was celebrated.
Father Sócrates remains with his mission in the Sanctuary of Nova Andradina together with the other Redemptorist priests, who are Father Celso da Cruz and Father Matheus Rocha.
(novanews.com.br – photos from the Facebook account of Fr. Sócrates Emmanuel Pereira Pavon)