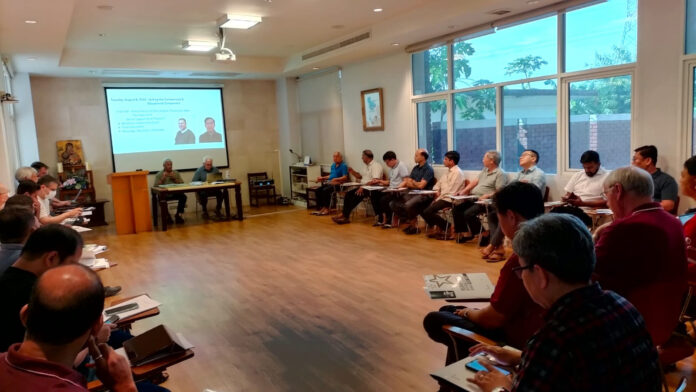 The Third Phase of the XXVI General Chapter continues at the Conference of Asia Oceania at Minburi in Bangkok Thailand. 
The day began with morning prayer led by the Province of Liguori, and the Eucharist celebrated by the Vice Province of Majella. In the first half of the 2nd Day, the General Government presented the situation of the Congregation to the Conference. Fr Paul Vinh presented a summary of the 2nd Phase of the XXVI General Chapter. Fr Rogerio Gomes then presented the mandate from the General Chapter as interpreted by the General Council as well as his reflections and expectations for the Conference of Asia Oceania moving forward. Fr Ivel then presented the Schematic Vision of the General Government for the sexennium. Finally, Fr Nicolas Ayouba presented the situation at the conference of Africa Madagascar and the realities and challenges that the Conference faces there. 
The afternoon and evening sessions were devoted to group reflection taking up questions on how all the input from the General Government was received and the feeling each one had regarding the way forward as a Congregation, Conference, and individual units. The final session was a plenum with sharing impressions and responses regarding the realities of the Congregation and Conference. The Day closed with evening prayer led by the Province of Bangalore.
The 3rd day of the 3rd Phase is devoted entirely to group work. There are five groups, one each for Redemptorist Identity, Consecrated Life, Mission, Formation, and Leadership. Each group will work on a strategic plan for the sexennium in order to actualize practical ways in which each of the five areas can be lived according to the themes for each year as decided by the General Government.
The Confreres continue to work in an ambience of quiet and calm as well as enjoying the hospitality of the Province of Thailand. 
Joseph Ivel Mendanha, C.Ss.R.
General Consultor