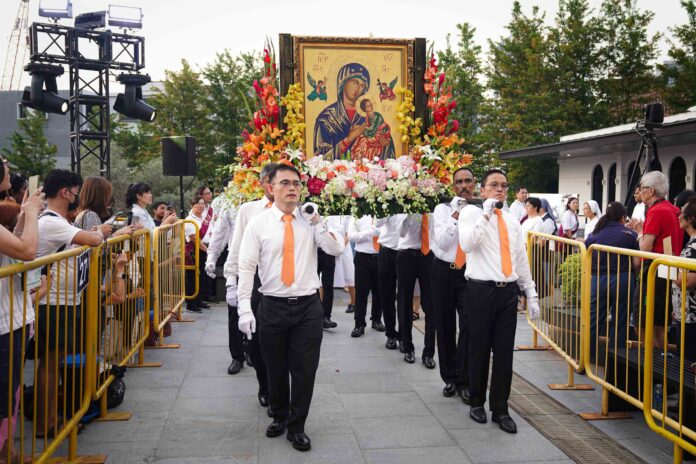 Theme: Mary, Our Mother of Hope
Since 1953, the Church of Saint Alphonsus (Novena Church) has held its annual procession in honour of the Blessed Virgin Mary. Held on the first Sunday of September, it is the highlight of the year for Novena Church devotees, drawing thousands who come to offer their supplications, thanksgiving, and love to Our Lady.
Themed Mary, our Mother of Hope, this year's celebrations on Sept 3 had already begun more than two months before. Over the nine weeks of their novena preparing for the annual procession, the Church collaborated with nine different organisations to create awareness of their pastoral outreach to families, the sick and elderly, young people, the LGBTQ community, lapsed and returning Catholics, migrants and foreign workers, the physically-challenged, and those suffering from dementia and addictive behaviours.
The festivities began with a lively performance by the St Joseph's Institution's Pipe Band and Military Band followed by a praise and worship segment, and culminated with the Eucharistic celebration presided by Bishop Paul Bird, CSsR from the Diocese of Ballarat, Australia, and concelebrated by Vice-Provincial of the Redemptorists of Malaysia & Singapore, Fr Victorino Cueto, CSsR, Rector of Novena Church Father Eugene Lee, CSsR, and other Redemptorists and guests which included diocesan clergy, religious brothers and sisters.
This festival of joy and colour was indeed a wonderful testimony of the universal appeal of Our Lady, especially to the more than 4,000 devotees of all faiths who attended.
(Courtesy: novenachurch.com & catholicnews.sg)