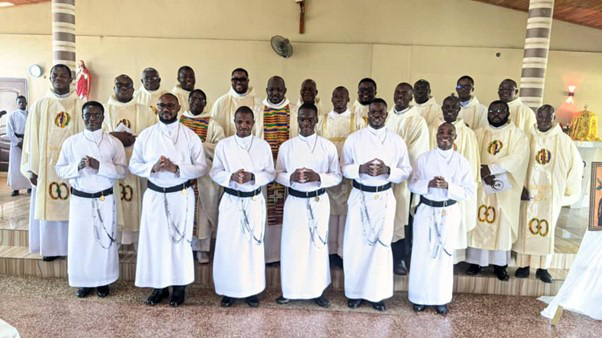 On 8th September, the most solemn day, the Redemptorists of the Vice Provinces of Nigeria and Afrique de l'Ouest celebrated the Nativity of the Blessed Virgin Mary, together with the celebration of the first religious vows of six brothers (Gerard, Victor, Kinsley, Sidoine, Joseph and Urbain). These brothers are the first fruits of the common novitiate program of COREAM in Ejisu-Kubease, Ghana.
The celebration of the Eucharist was presided over by the COREAM coordinator, Rev. Fr. Noel SOTTIMA. Rev. Fr. Godwin Abbah, the representative of the Vice-Provincial Superior of Nigeria, reflected with the sixth novices who were to profess their vows and all of Christ's faithful present the necessity of marrying our wills with that of God in our communities, in our apostolic works and our vacations. He added that the life that the six brothers have chosen is a very beautiful life: living a chaste life by controlling our appetites and becoming professional lovers as Christ. He urged them to live the life of obedience not as a deprivation, but a gift willingly given. This gift of their will in the footsteps of the Redeemer is the feature that will make them resemble the Redeemer the most. The poverty they are about to embrace is supposed to free them to live joyfully for God without being occupied by the possessions of the world. He encouraged them as they renew their vows each year they should desire and grow deeper into the mystery that Christ has called them to.
After the homily, Rev. Fr. Sawadogo Olivier, the Vice-Provincial superior of Afrique de L'Ouest received the vows of the six brothers as members of the Congregation of the Most Holy Redeemer.
In their appreciation, the newly professed gave thanks to God for his mercies and love. They gave thanks to the Vice-Provinces of Nigeria and Afrique de L'Ouest and also COREAM for giving them the opportunity to have a common novitiate and also experience the Redemptorist way of life from their Novice Master, Fr Ghislain and Fr Henry, the socius.
Fr. Marc Toguyeni, CSsR.