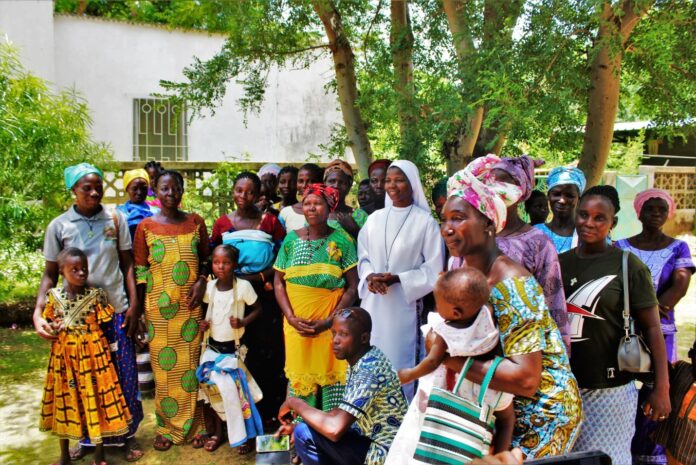 On the memorial of Saint Jean Eudes, Priest and Founder, the Redemptorist Sisters prayed for their Novice, Marie Augustine YOUGBARE, who took her vows on August 19, 2023, in the convent chapel of their community at Diabo, Our Lady of Perpetual Help, Burkina Faso.
At the celebration, Sister Marie Augustine YOUGBARE of the Divine Mercy, O.Ss.R., solemnly professed her vows of chastity, poverty, and obedience. She was welcomed into the family by Sister Marie Fabienne SOUBEIGA, O.Ss.R., who serves as the Mother of the community. 
The main celebrant, Rev. Fr. Nobila Olivier SAWADOGO CSsR, who serves as the Vice-Provincial Superior of the Redemptorist Vice-Province of West Africa, conveyed to Sister Marie Augustine that her affirmation earlier in the day represents a complete answer to Christ's summons. This answer entails a comprehensive connection with the church and is expected to yield positive outcomes.
Once more, her response should serve as a reminder of her responsibilities as a Christian. Namely, she must bear in mind that these Vows of Chastity, Obedience, and Poverty are meant to be evident in her life as a Religious within the Christian faith.
Following the recitation of her personally composed declaration of commitment, Sister Marie Augustine was entrusted with her Bible, Constitution, Cross, and the white habit accompanied by a veil. Upon assuming her new Religious Identity, her novice mistress, Sister Marie Christine KERE, OSsR, introduced her to the assembled family, priests, and congregation at the ceremony. The atmosphere was brimming with happiness and delight.
The occasion was honoured by the attendance of the Vice-Provincial Superior of the Redemptorist Vice-Province of West Africa, delegates from the Diocese of Fada N'Gouma in Burkina Faso, various religious congregations, and Sister YOUGBARE's family.
Staying true to our custom, once the Mass concluded, the newly professed Sister was felicitated as the central figure. She was joined by others for a photoshoot, capturing the collective elation evident in their wide smiles – all dedicated to magnifying the glory of God!