Departing Rome, we set out on a bus journey heading south, towards the outskirts of Naples. Our destination was the Redemptorist mother house in Ciorani, where we were privileged to spend two weeks, but not before visiting Sant'Agata de Goti where St. Alphonsus de Liguori was ordained a Bishop. Here we also experienced the warm hospitality of the Redemptoristine Sisters and learned more about their Foundress Blessed Maria Celeste Crostarosa. We shared table and song with the Sisters at Eucharist and lunch. If "joy is the most infallible sign of the presence of God," His presence was undeniably among us. We were captivated by the joyful experience of unity that we shared with the Redemptoristines, both in Sant'Agata de Goti and again in Scala. Our hearts overflow with gratitude for having shared in God's boundless abundance with these remarkable Sisters.
Ciorani is a place where time seems to slow down, allowing you to savor every moment with a profound sense of tranquility. Nestled amid hills, Ciorani exuded a serenity that envelopes you as soon as you arrive. Rising early one morning, hoping to photograph a breathtaking sunrise over the hills of Ciorani, I instead was treated by the melodic tolling of bells resonating through the tranquil landscape. These enchanting sounds rang from a flock of sheep that was eventually guided by their herders past the Redemptorist House, exactly as St. Alphonsus himself would have encountered! The spirit of our founder was palpable in Ciorani. It was easy to meet St. Alphonsus and to get to know him as a friend who has welcomed us to find out all about him and the people whom he desired to serve. Ciorani became our starting point for various outings including visits to Scala, Marianella, Naples, Muro Lucano, Delicato, Materdomini, and Pagani, providing us occasions for returning to the sources and to the precious spiritual and pastoral legacy that St. Alphonsus, St. Gerard Majella and Blessed Sarnelli have left behind.
Our lectures continued in Ciorani with Fr. Piotr Chyla and Fr. George Puthenpura presenting on topics such as Spirituality, the Kingdom of Naples, our Saints and Blesseds, and our Constitutions. Fr. Vimal Tirimanna spent a full day with us presenting on Alphonsian Moral Theology. It was profoundly inspiring to reflect upon the fact that Theologia Moralis, is not the product of an expert theologian. Rather, it blossomed from St. Alphonsus' contemplation of ethical quandaries arising from the pressing needs encountered during his pastoral work and his personal commitment to addressing the legal and moral dilemmas he encountered during his active ministry, particularly in the mission field and within the confessional. Fr. Ivel Mendanha also spent a full day with us discussing various aspects of the Message of the XXVI General Chapter. Having had the honor of participating in Phase 1 and Phase 3 of the General Chapter, Fr. Ivel's discussions served as a bridge to being a "Missionary of Hope in the Footsteps of the Redeemer", the theme for this sexennium, and to walk in the footsteps of St. Alphonsus during this Spirituality Course. My appreciation and gratitude to Frs. Ivel and Vimal, as well, for generously sharing their extensive expertise.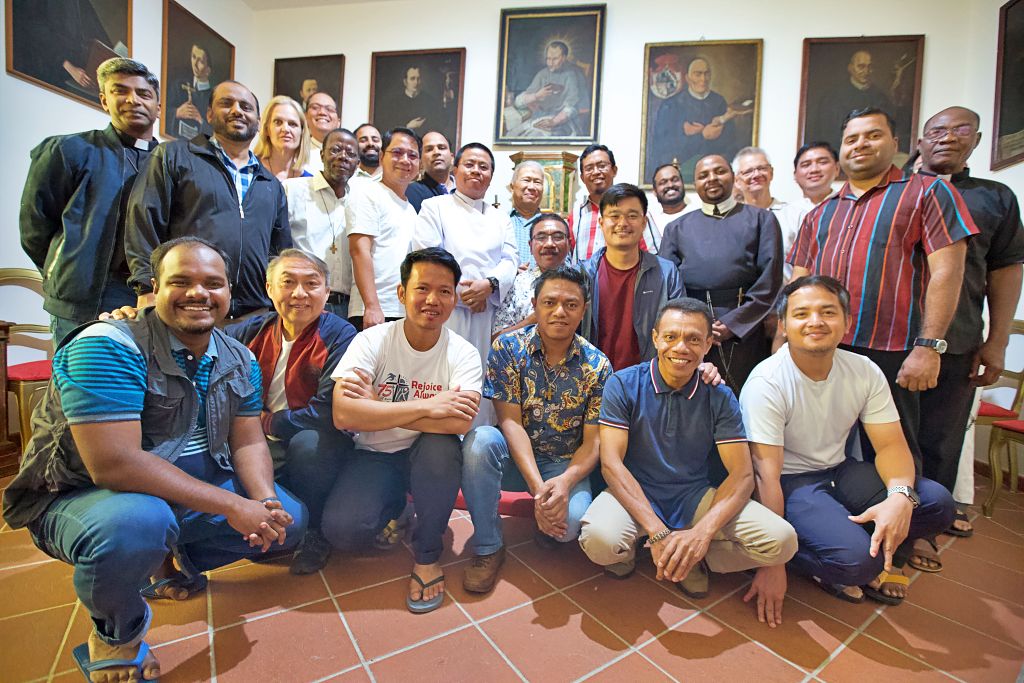 On our second Sunday in Ciorani, we gathered in the Chapter Room where St. Alphonsus and his first companions convened the First Chapter after the approval of the Rule in 1749 and took their solemn vow and oath of perseverance. In a moving prayer service, our Redemptorists had the opportunity to renew their profession to live with fidelity to their vow and oath of perseverance while I had the privilege to renew my Lay Missionary commitment to the Redemptorist charism. During this sacred moment, in acknowledgement of the divine Presence within each of us, we recognized that we share a common birth in the Spirit, a shared calling ignited by the Spirit, and a profound sense of unity within the Redemptorist family forged by the Spirit through the Redeemer. The unanticipated discovery of the artistic element of a single daisy, positioned on the front, center, towards the base of this original altar, added an extra detail of personal significance to this profound experience; daisies happen to be my favorite flowers.
Music has accompanied the entire existence of the Redemptorist Congregation. As a gifted musician and composer, St. Alphonsus harnessed the power of music to convey profound spiritual messages through his poetic lyrics and compositions. During the concluding session of the Spirituality Course, we were blessed to have Fr. Paolo Saturno, an enthusiastically passionate conductor of the Alphonsian-Redemptorist musical tradition, narrate a vivid explanation of the musical legacy passed down through generations. As a complement to his words, the captivating performance of the Alphonsian ensemble filled the air with melodies that reverberated through the walls around us, creating an atmosphere that was nothing short of magical. Their concluding piece was "O Bella Mia Speranza," and as an encore, we were treated to the timeless Neapolitan classic, "O Sole Mio." Our private concert was a transcendent experience that resonated deeply within our hearts, leaving a profound appreciation for the Alphonsian-Redemptorist musical tradition. 
The majority of this last day in Ciorani was then dedicated to a silent retreat. This private time was meant to ensure that the treasured reflections and cherished memories of this transformative Spirituality Course would be etched into the very core of our souls. I spent some time penning notes of gratitude to our community at the mother house before embarking on one final daily hike up the hills of Ciorani. Upon my descent, I was greeted by a distant echo of "O Sole Mio." It momentarily felt as if my senses were playing tricks on me. Following the melody, I stumbled upon a Nonna singing from her balcony while hanging laundry. I stood there watching, captivated. I had been feeling sadness about the impending conclusion of the Spirituality Course, but her song reminded me that like music, the profound experience of the Course and the friendships that we have forged will transcend the boundaries of time and distance, echoing in our hearts a constant reminder of the beautiful journey that we undertook together. After returning to Rome, the following was received in our group chat, "It was so good that we are tempted to say, 'Let's stay here. Let's put up three tents.' But we are going to come down from the mountain, since there is still a lot to do…" 
The echoes of this profound course still resonate strongly within me even though I completed the course several months ago. Reflecting on my experiences of participating in the Spirituality Course, I was reminded of a poignant quote by F. Scott Fitzgerald, which encapsulates the essence of this transformative journey: " It's a funny thing about comin' home. Looks the same, smells the same, feels the same. You'll realize what's changed is you."
Lucy Burich McNamara
Lay Missionary of the Most Holy Redeemer, Baltimore Province
See also the first part of Lucy Burich McNamara's reflections, published on our website in September.