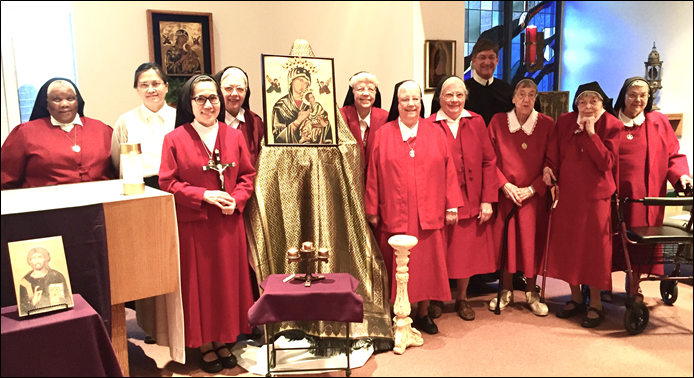 Sr. Maria Celeste, O.Ss.R. bid farewell to Liguori on Wednesday, finally   beginning her long-awaited journey to Australia. More than a year ago, Sr. Maria Celeste was selected to serve as Novice Mistress at the Most Holy Redeemer monastery in Maitland, New South Wales.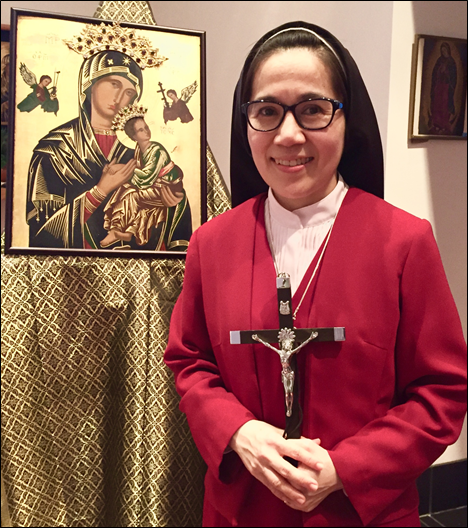 "This is a mission that God has given me. Three women would like to enter the Redemptoristine monastery, and three women are discerning their vocations," she said. "There is no false humility when I say that I am not a teacher, just a simple nun. But I will offer my heart to love and help them, and will gladly share the Redemptoristine way of life – being a living memory of Jesus, our Redeemer."
Although the Redemptoristine spirituality and charism are the same throughout the world, life in each monastery is different. "In his wisdom, Bishop William Wright of the Diocese of Maitland-Newcastle suggested that I take enough time to learn the rhythm of life, and get to know the candidates," Sr. Celeste explained.
Located about three hours north of Sydney, the Most Holy Redeemer Monastery is built on the Bolwarra Heights of the Hunter Valley overlooking a beautiful lake and natural landscape that borders the forest-covered Paterson Mountains. The Redemptoristines  in Australia are the only English-speaking community  that still wear the full-length red and blue habit and observe a traditional religious way of life: Daily Mass, Papal Enclosure, the Divine Office seven times a day, meditation, work, spiritual reading, penance, holy silence and happy recreation.
Fr. John Schmidt, director of St. Clement Health Care Center, hosted a missioning ceremony for Sr. Maria Celeste last week. Redemptorists from the Liguori communities and the St. Louis area joined the Redemptoristines to send her on her journey with God's blessings and their promises of love, friendship, support and prayer. "I expected only to share evening prayer, receive a blessing and have dinner, but the evening was beyond anything I could have imagined," she said.
After leading those gathered in a special blessing, Fr. John presented Sr. Maria Celeste with a mission cross. "I am so grateful, but I  now have one more cross to carry!" she joked.
"I was moved to tears when Fr. John and I carried the Perpetual Help icon around the chapel for everyone to venerate. I gave everyone a small gift as a token of my gratitude, and I thank God and everyone for such a beautiful, grace-filled and wonderful evening," she said.
Sr. Maria Celeste considers Liguori her home. She arrived in 1993, and after 18 years was among the four Redemptoristines sent to establish the new foundation in Thailand in 2011. The agreement with the Australian monastery is for four years, but she said, "Whatever God wills. I will do my best with His help, and rely on the prayers of all of those people who promised to remember me, as I remember them in my daily prayer."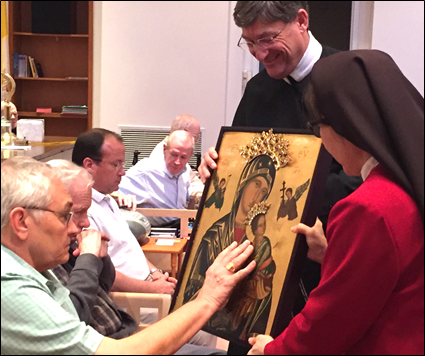 Fr. John Schmidt and Sr. Maria Celeste present the Perpetual Help icon to Br. Paul Yasenak for veneration during the Missioning Ceremony.
by Kristine Stremel