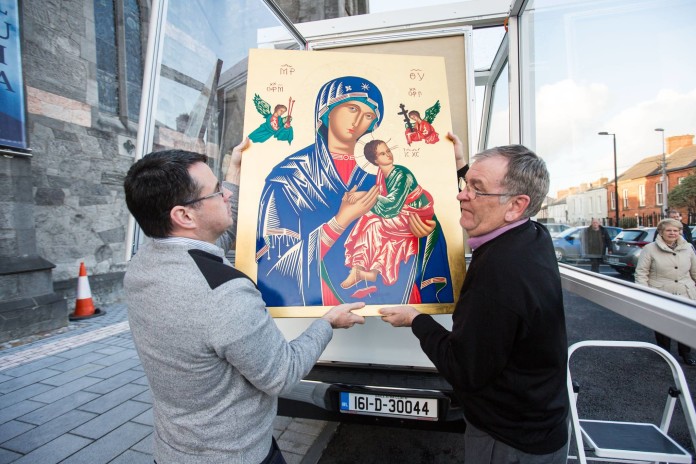 (Clonard Monastery, Belfast, may 13, 2016) –  Clonard Monastery in Belfast is bringing the icon of Our Mother of Perpetual Help out into the community in anticipation of the arrival of the icon pilgrimage this weekend and to build awareness and devotion of the image.
The icon of Our Mother of Perpetual Help, newly written in Poland and blessed by Pope Francis, has been on a tour of the cathedrals of Ireland as a jubilee pilgrimage marking 150 years since Blessed Pius IX placed the 15th-Century icon into the care of the Redemptorists.
The pilgrimage will end in Clonard Monastery this weekend with a full programme of jubilee celebrations, including a prayer service in Stormont.
Team
The mission team in Clonard have been preparing to welcome the icon by organising a number of events to promote awareness. Clonard's rector, Fr Noel Kehoe, had five icons commissioned in Poland last October which have been distributed to homes on a rota basis for neighbourhood prayer services.
"We've all been taken aback by how successful the initiative has been," Fr Kehoe told The Irish Catholic. "We expected the icons to travel around homes from March to April as part of the jubilee but they are booked out to next year and we think it will be a permanent feature."
Sarah Kenwright, a pastoral worker in Clonard Monastery, said praying with an icon "is a foreign way to pray" for many Irish Catholics "so we came up with a pack with ideas for gathering neighbours and community into the home for a prayer service". "Nobody could have anticipated the response," she said. "It is really quenching a thirst people didn't know they had. They are so grateful to be able to pray with the icon and get a better understanding of the icon."
Celebrations
Secondary schools in the area have also received project packs and they will bring their work to Clonard Monastery for the weekend celebrations. 
Answering Pope Francis' call to take the Church to the streets, the third element of the team's preparation for the icon pilgrimage has been a series of community celebrations throughout this week. Five public areas in West Belfast were chosen for "Novena on the streets" starting last Sunday at the Poleglass roundabout.
"We wanted to bring the benefits of the novena out closer to the people," Fr Kehoe said. 
"I'm not sure what we are tapping into but there is certainly something being expressed," Fr Kehoe said. "I think fundamentally if you scrape the surface of Irish people we are deeply devotional and it feeds into what is strongly in our spiritual make-up. And maybe as a Church we need to look again at how we can re-engage people and spark off their Catholic imagination. This is so simple, it is accessible to everyone."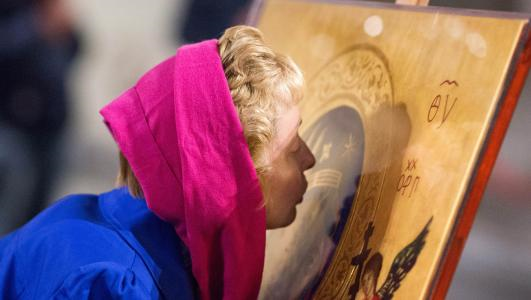 Icon pilgrimage attracts thousands
Fr Seamus Enright CSsR, who has been travelling with the icon of Our Mother of Perpetual Help on a tour of the cathedrals of Ireland, said it was impossible to count the numbers who have turned out but they are in the "thousands and thousands".
The icon, travelling in a glass 'Marymobile', has not only visited cathedrals, but nursing homes, monasteries, a travelling community and a prison.
"We are really pleased with how well it has gone," Fr Enright said. "The image is so well-known and devotion is very deep in Ireland. We are almost filling cathedrals and we have baskets of up to 50,000 petitions which we will bring to Knock on August 15.
"People are looking for an opportunity and as one man said to me in Letterkenny it is a 'solidarity of vulnerability'."
by Mags Gargan in The Irish Catholic
http://www.irishcatholic.ie/