(Sevilla, Spain, 28th April, 2016) – The meeting of the Council of the CRE took place in Sevilla (Spain) from 27th to 28th April 2016.
The XXI meeting of the Council of the CRE had apostolic and formation meetings as its priority.  The meeting was also called for the final preparation of the Canonical Phase of the General Chapter.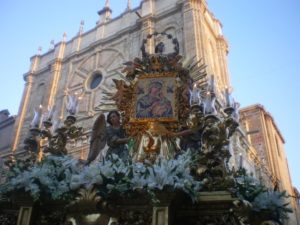 The other priorities on the agenda were:
– completing the work of the final versions of the Report of the CRE and The Audio- visual Presentation of the CRE for the General Chapter
– the arrangements for the Month of Preparation before Perpetual Vows for the formandee from the CRE in Kostolna (Slovakia) 2016.
– the Ministry of the Redemptorists to Pilgrims in Astorga 2016.
– planning the future of the Interprovincial Community in Albania.
– talking about the meetings of youth, during World Youth Day in Cracow.
– summarising the work of various secretariats and commission in the CRE.
– discussing common studentate, novitiates and other formation issues in the CRE.
Fr. Jacek Zdrzalek