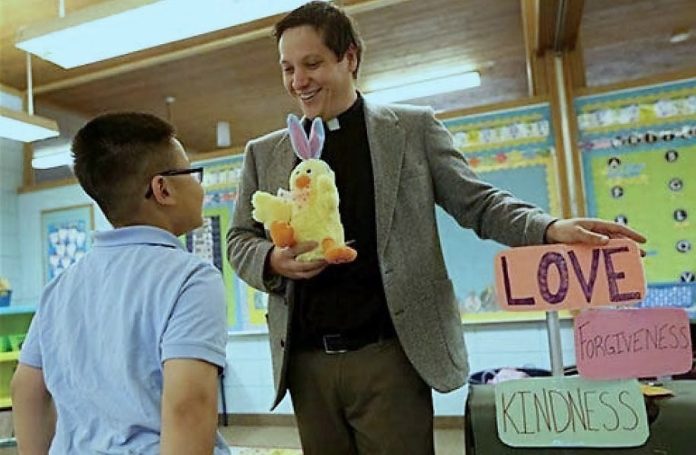 Fr. Aaron Meszaros walked into a second grade classroom at St. Alphonsus School in Brooklyn Center May 26 with a suitcase in one hand and a stuffed chicken in the other. He likes to use props when he talks to kids. He was ordained a Redemptorist priest April 9 in his hometown of Grand Rapids, and already he has settled on a style of communication he likes to use with children: laughter. It worked. The kids howled with delight as he pulled out the stuffed chicken and led them in a chicken dance. But, there was more to his classroom visit. On the suitcase were placards with words he wanted the students to think about: love, forgiveness, kindness, friendship, joy and peace. They were the same words he had preached about the day before during an all-school Mass. He was stopping by to see if the students had retained what he had taught them the previous day. They had. In between chicken dances, they made short but insightful comments on the words he had brought to them. They also laughed together, and Fr. Aaron continued to break out in laughter as he reflected later on his two months of priesthood.
"It's a real gift to be present to the students, to bring a little laughter, to walk with them in their journeys," he said, noting that the humor works both ways. "As much as I want to bring a sense of hope or laughter or a sense of joy to them, they do the same to me. It's mutual." Like the Brooklyn Center parish, where Fr. Aaron started serving last fall as a transitional deacon, the new priest's hometown parish is also named St. Alphonsus, after the Redemptorists' founder, St. Alphonsus Liguori. St. Alphonsus in Brooklyn Center is the only Redemptorist parish in the Archdiocese of St. Paul and Minneapolis. Latino and African parishioners make up a significant proportion of its community.
"I think it's beautiful," he said, of working with different ethnic communities. "I don't do as much with the Latino population because I don't speak Spanish. But my encounters with the Spanish-speaking people of the parish have been very, very positive, very fruitful." Fr. Aaron is one of eight Redemptorist priests at the parish. Four serve the parish and four serve on an evangelization team that reaches out beyond the parish, along with a Redemptorist Brother.
Fr. Aaron has not been officially assigned to the school, but he's gravitated toward spending time with the students. "Working with the students, seeing them grow . . . gives me a sense of hope for the future, a sense of hope for the Church," he said. "These children have such talent and so many gifts. Sometimes, it's just helping them to see that, to see the gifts that they have. That is one of the powerful moments of working with these kids."
Dave Hrbacek, Denverlink