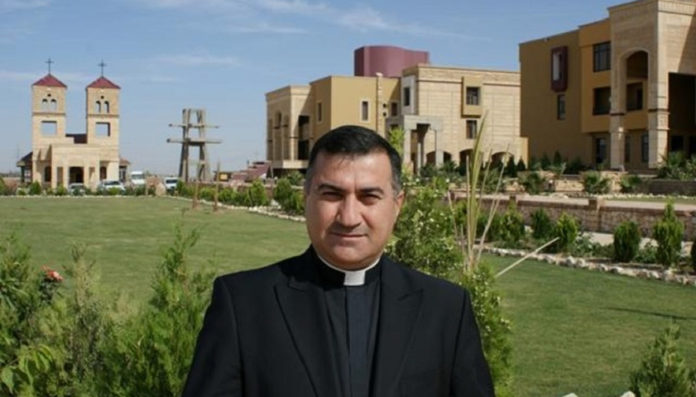 Archbishop Bashar Warda of Erbil, establishing Catholic university,
wonders if Christians will be able to support a reform of Islam
Iraqi Christians, stranded in Kurdish Iraq, have some reason for hope now that the battle for Mosul and the Nineveh Plane has begun. However, the Chaldean archbishop who, for two years now, has played a pivotal role in taking care of the humanitarian and spiritual needs of the exiled community, urges caution in painting too rosy a picture for Iraq's embattled minorities.
"Iran, Turkey and the Kurds all have a stake in Mosul" and the surrounding area, Archbishop Bashar Warda of Erbil, the Kurdish capital, told international Catholic charity Aid to the Church in Need; even after Mosul is retaken from ISIS—and odds are that will happen before the end of the year—a bitter power struggle would likely put Christians seeking to return to their abandoned homes in harm's way.
For now, the prelate stressed, no concrete plan is in place to protect the Christians and other minorities upon their return to Mosul and the Nineveh Plain. He predicted that it would at least take close to a year before a significant degree of homecoming would be possible.
Meanwhile, the archbishop—who was in New York as the guest of Cardinal Timothy Dolan—continues to care for the flock in Erbil and surroundings, which means drumming up considerable funding to ensure that IDP families can pay their rent, that homes can be heated, that there will be food on the table, and that schools are functioning. For the past two years, the Archdiocese of Erbil has received more than $31 M in funding from Aid to the Church in Need, in addition to support from 16 other Catholic organizations from around the world.
Contrary to some reports, the archbishop insists that 80 percent of the people under his care wish to remain in Iraq. But he adds that "even if the number drops to 10,000 families" or some 60,000 people—down from the current estimated total of 250,000 Christians, including those living in Baghdad—"there will always be Christians in Iraq."
Archbishop Warda stressed that the Christians bound to stay are not just those who cannot afford to leave—on the contrary, he cites a good number of affluent families who are determined to remain in Iraq, be it in Kurdistan or Iraq proper. A good number of them have already started successful businesses in Erbil. A clear sign of confidence in this future for the local Church, the archbishop has established the Catholic University of Erbil and fundraising for the institution brought him to the US.
Leaving aside the intractable enmity between Shiites and Sunnis—and the growing tensions between Shiite Iran and Sunni Saudi Arabia—Archbishop Warda said the biggest obstacle in the way of long-term security for Christians and other minorities is Islamic radicalism. "Islam needs reform and, unlike Christian violence that was committed in misinterpretation of Scripture," he said, "there is a call to violence in the Koran—and that needs addressing."
It will be a task for courageous Muslim leaders, he continued, and "maybe, just maybe, Christians can lend them a hand." Surely, the study of the Koran and Islamic tradition will figure prominently at the new Catholic University of Erbil.
(from zenit)