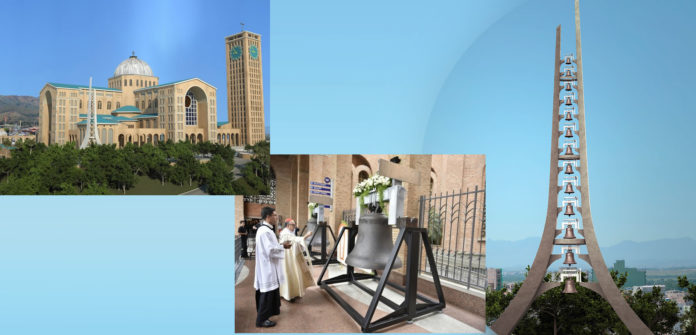 The bell tower of the National Shrine of Aparecida will be officially opened after the Eucharistic celebration of December 24th, Christmas Eve. The chiming of the 13 bells will be heard for the first time at 9.00 pm, local time. There will be a procession and after the blessing of the monument, the bells will ring in joy.
"We will deliver the bell tower to celebrate Christmas, and thus, when the bells will ring in Bethlehem, so too will the bells at our National bell tower ring. This is how we have chosen to commemorate the birth of Jesus Christ, in this jubilee year", says the treasurer of the National Shrine, Fr. Daniel Antonio da Silva: "Thus it is no coincidence, we chose Christmas Eve as the opening date".
The structure was designed by the architect, Oscar Niemeyer, and it is one of the landmarks for the celebration of the Jubilee of the 300th anniversary of the discovery of the Image of the Mother of Aparecida in the River Paraíba do Sul, the anniversary will be celebrated throughout the year 2017.
The structure has the shape of two hands in prayer, the bell tower is 37.5 meters high, as tall as a 12-story building. The height is slightly less than length of the aisles of the Shrine, which are 40 meters high.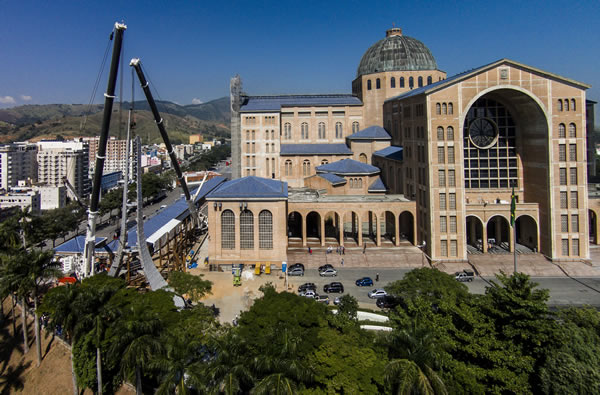 Following a tradition of the Catholic Church, each bell was dedicated to an apostle of Jesus, the biggest was dedicated to the Blessed Virgin Mary and to St. Joseph. It also honors members of the faithful who contributed to the construction of the bell tower.
Moreover, each bell is also a tribute to the Cardinals, Archbishops and Bishops who were part of the history of the discovery of the image, the arrival of the Redemptorists in Aparecida and the construction of the National Shrine. The artistic design of the bell tower is by Claudio Pastro, a sacred artist, responsible for the artistic and theological project inside the Basilica of Aparecida.
(we received this information from the National Shrine)