from the Prelature of St. Mary's in Marawi
On August 31, 2017, the crisis in Marawi will reach its 100th Day.
The Prelature of St. Mary in Marawi is one with the people – particularly the Maranaos – in their loss and suffering. Many of our personnel are still under hostage by the terrorists, our Cathedral was reduced to rubbles after being looted and desecrated, and our own Christian community of 20,000 individuals are in diaspora. All our heritage, collections, church records, and structures were burned.
But we remain ONE with the people of Marawi in their hopes to begin the long journey towards recovering and rebuilding their city and the essential tasks of healing, reconciliation and peace-building. Already, we have heard signs of dissonance and seeds of discord even before the blueprints and roadmaps for reconstruction are being designed. It will be easier to invest billions in building roads, bridges, and other infrastructure, but the real foundation of this city must be built in the hearts of its people.
To begin this journey, Most Rev. Edwin dela Peña, D.D., MSP in partnership with the Redemptorist Missionaries assembled a group of priests and lay missionaries from all over the country to form a social action center to plan and implement both short-term and long-term church-based response to this crisis.
After consultation with major stakeholders – IDPs, LGUs, military, CSOs, Maranao leaders, and church organizations – we crafted a program called
DUYOG MARAWI
,
Duyog
is the Cebuano term for accompaniment, often understood as the act of playing a musical instrument to accompany a singer or a dancer. We are conscious that the mission of rebuilding the city belongs to the people of Marawi; we as representative of the universal Catholic Church are here to support and accompany them all the way.

Launching of Duyog Marawi, August 30, 2017
Bishop's Residence, Maria Cristina, Balo-i, Lanao del Norte
Presentation of Workshop Results – Duyog Marawi Action Plan
Prior to the Launching was a two-day training for volunteers. We target 30 for the training but more than a hundred joined including the 26 volunteers from Capiz.
An output from the training is a detailed Action Plan for the Duyog Marawi. They were divided into 7 groups to discuss the following: 1. Communication for Peace and Advocacy Team 2. Medical Mission Team 3. Psychosocial Intervention Team 4. Pastoral Renewal Team 5. Peace Corridor Team 6. Peace Education for Children Team and 7. Mindanao State University Team.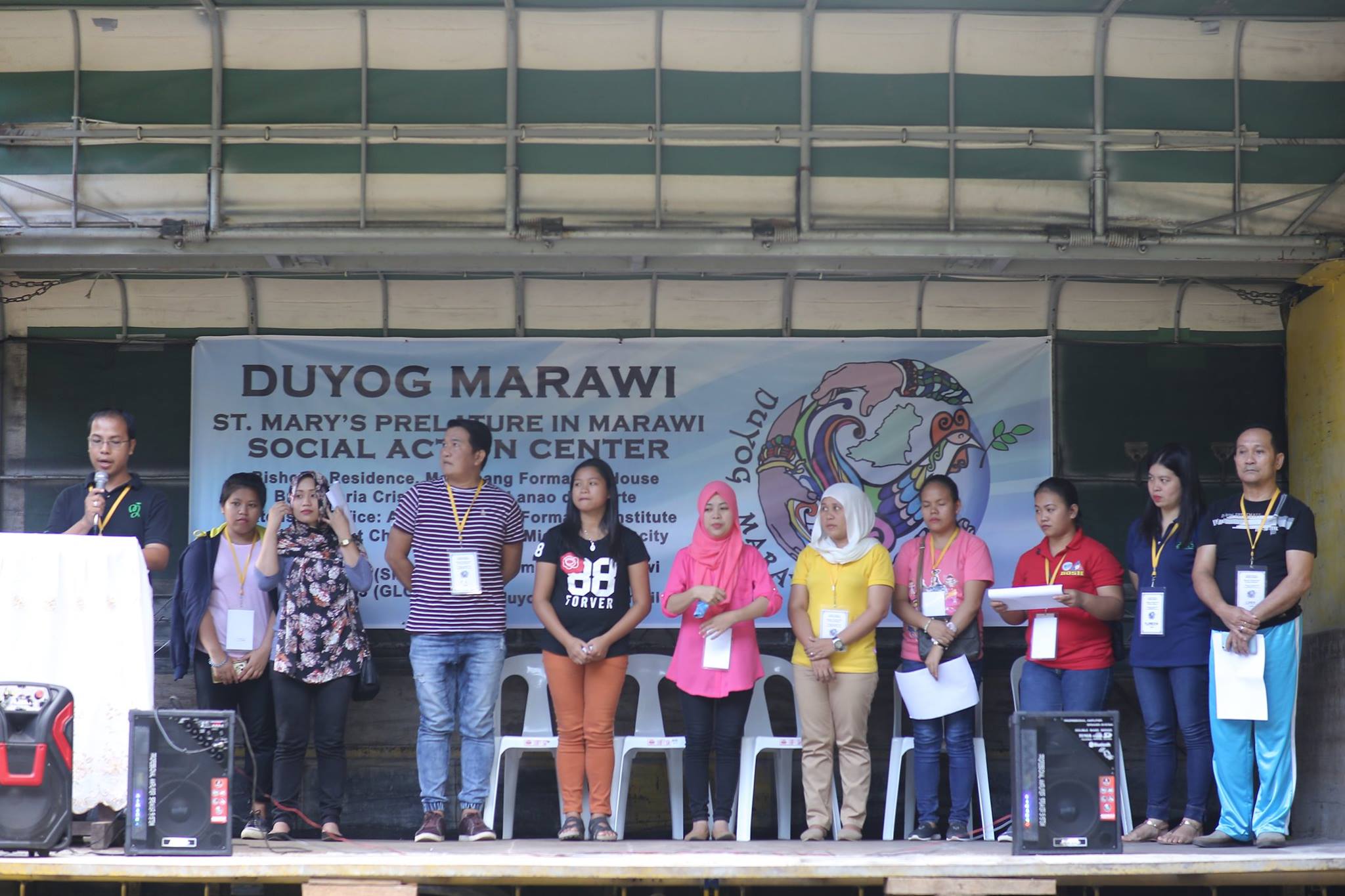 Launching of Duyog Marawi. Aug. 30, 2017. Bishop's Residence. Maria Cristina, Balo-i, Lanao, del Norte
Welcoming Remarks
Bro. Rey Barnido, the OIC Social Action Coordinator welcomed guests and participants
– On behalf of the 107 Volunteers of the Duyog Marawi Muslim Christian Volunteers For Peace
– On behalf of the Bishop, the clergy and parishioners of the Prelature of St Mary in Marawi
– On behalf of the Redemptorist Missionaries in the Philippines
– And on behalf of the 26 volunteers from the Archdiocese of Capiz