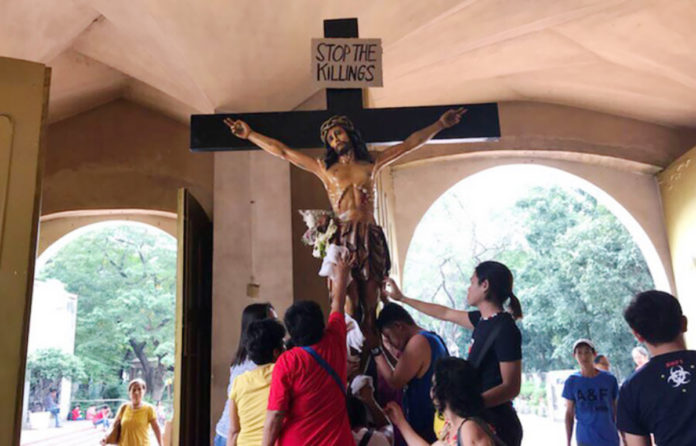 (MANILA, Philippines) On the eve of Human Rights Day, the National Shrine of Our Lady of Perpetual Help, also known as Baclaran Church, affixed a powerful message on top of its crucifix. It was to remind the faithful that Jesus Christ was victim of extrajudicial killings, too.
"Stop the killings," the cardboard message read, temporarily replacing the INRI inscription on top of the crucified Christ, on Saturday, December 9. (READ: Impunity: The Church of Resistance)
It mimicked the cardboard messages left on top of drug suspects in vigilante-style killings. It is the latest Baclaran church display in protest of the killings in the Duterte administration's war on drugs. In December last year, it had an exhibit of posters of casualties in the government's bloody campaign.
On Saturday, Redemptorist priests and other groups launched "Kilusang Artikulo 13" at Baclaran Church, a movement that urges the government to respect life and human rights. It refers to Article 13 of the Philippine Constitution on "Social Justice and Human Rights."
The church also held day-long activities for International Human Rights Day, which is commemorated on December 10.