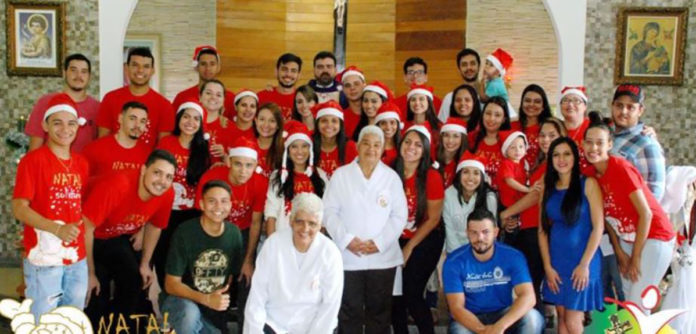 (Abadia de Goiás, Brazil) The Youth Missionary Redemptorist of Abadia de Goiás-GO, held on Sunday morning, December 10, 2017, another edition of Christmas Solidario that began in 2013.
The event was held in the São João Batista Community, located in one of the outlying areas of the city of Abadia de Goiás, which has the largest portion of the population in need of that region.
With a preparation of more than three months, the youth organizing team went to the site very early. After preparing and decorating the environment, the second Sunday of Advent Mass was celebrated, with Redemptorist Missionary Father Fábio Pascoal, Spiritual Director of JUMIRE Go-MT-TO-DF and the participation of all staff, members of the community local and assisted by Christmas Solidarity. Soon after, the animation started with a lot of music, hot dogs, cotton candy, red-red, face painting, haircuts, free gifts, gift distribution and basic sixth, besides of course, a lot of love dedicated to more than 200 children and some of their relatives.
The liturgy of the Mass, which invited us to a process of conversion for the reception of the Child Jesus in our lives, especially in the care and consolation of one another, seeking to understand God's time, manifesting His goodness, became concrete in the care, dedication and care of each of the organizers extended to all participants: surely the goodness of the Lord can be experienced by all on this morning so well prepared.
Let us pray to the Lord so that this gesture enlightens us every day, so that we can learn to take better care of one another in the daily lives of our lives. Let us ask for the intercession of St. John the Baptist, so that the youth continue to announce the arrival of the Lord by his words and attitudes in doing good.
God bless you!