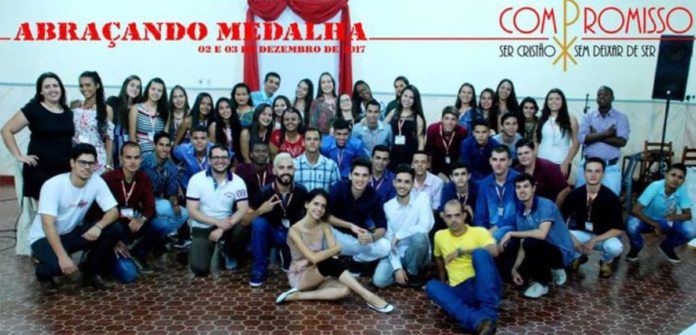 (Campina Verde, Brazil) On December 2 and 3, 2017, the 2017 edition of the EMBRACING COMMITMENT took place in the Sanctuary of Our Lady of the Miraculous Medal, in Campina Verde-MG. Thirty-nine young people from the parish and two young people from Trindade who had participated in the previous editions of the COMMITMENT meeting participated. He had as conductors the young people of the TRIN CENÁCULO: Leônidas Neves and Rubimar Filho.
The EMBRACING COMMITMENT is a meeting of Christian deepening in the catechetical and sacramental dimension. In this meeting, the first coordinator of the MEDAL COMMITMENT Project was elected: Marcus Tulio, Maria Eduarda, Giovana Freitas, Caroline Samer and Ian Lucas, who take on the mission in charge of the Project in this parish for a year.
Let us pray to the Lord for these young people and their families, so that motivated by the call of the Redeemer, may continue to announce the Plentiful Redemption to their friends and other young people of that region, being strong in faith and joyful in hope.
God bless!