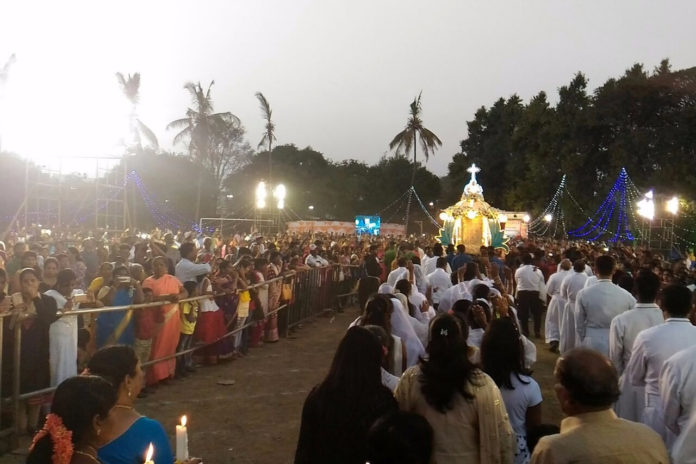 (Bangalore, India) On 28th of January 2018, the Redemptorists and the faithful of the Holy Ghost Church, Bangalore celebrated the annual feast of the Mother of Perpetual Help. On 18th January the flag of the Mother of Perpetual Help was hoisted by the Provincial Superior Fr. Arulanandam, CSsR. Like every year this year the feast day celebration followed by nine days of novena at the Shrine. The novena was conducted in three languages, English, Tamil and Kannada. The Tamil language had two sessions a day whereas English and Kannada had one session each. The novena in English was preached by Fr. Clement Joseph CSsR., Tamil by I Xavier CSsR and Kannada by Fr. Francis Varadharaju & Fr. Roshan Rosario. Alphonsian tradition was kept giving due importance to preaching of the Word of God.  The mother of Perpetual Help is well known devotion where thousands of devotees irrespective of caste and creed visit the shrine and pray to Mary. During novena hundreds of petitions and thanksgiving were sent in to the Shrine of the Mother of Perpetual Help.
The faithful, priests and religious participated throughout the nine days of novena. The Devotees took turns to decorate the icon of the Mother of Perpetual Help to show their great devotion and respect. It was indeed a community celebration. The On 28th Sunday afternoon the decorated float of the Mother of Perpetual Help which was blessed by Rev. Fr. Edward, the vicar of the province, went on a procession where thousands of devotees participated. The icon came among the sea of people from various parishes, denominations and faith traditions. The Archbishop of Bangalore, Most. Rev. Bernard Moras, D.D., concluded the program by the benediction followed by the final blessing.
The Holy Ghost Church belonging to the Redemptorists, Province of Bangalore, is an architectural master piece built by the Irish Redemptorists in 1952. The shape of the whole building is in the form of a Dove, the symbol of the Holy Spirit, hence the name of the Church: "HOLY GHOST", old English for Holy Spirit.  Back in 1950's nothing existed beyond the Church, it was only a cemetery. Now the surrounding view has changed with the buildings and structures all round.
James Kumar, CSsR.