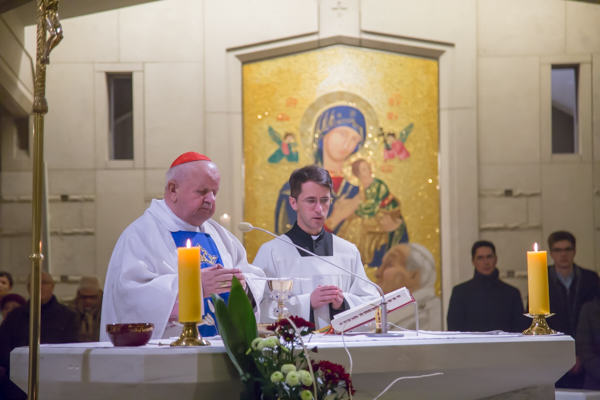 On Saturday 3 February 2018, Cardinal Stanisław Dziwisz blessed the mosaic of Our Mother of Perpetual Help in the Shrine of St. John Paul II in Cracow. The mosaic is located in the "Chapel of the relics".
Cardinal Dziwisz recalled that in Wadowice, in the parish church where Karol Wojtyła was baptized, the image of Our Lady of Perpetual Help is venerated from the late 19th century. The future Pope prayed when he was still a child and a young man, and later as a priest, bishop and cardinal. The Pope himself recalled that the Mother of God always appeared to him as "perpetual help in difficult times". The Cardinal noted that the way in which the images of the Mother of God are considered is one of the special characteristics of our piety. "They express our deepest feelings, our hopes, our experiences of her constant attention," he stressed.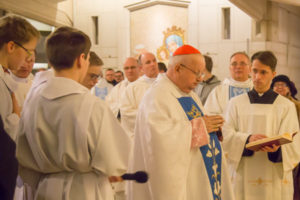 He then added that the image of Our Mother of Perpetual Help is one of the most well-known Marian icons, and her countless copies "are venerated in Churches, chapels and Christian houses all over the world". "We entrust all our actions to Mary. At her intercession we entrust the Church in Poland, in Europe and throughout the world, to courageously proclaim the Gospel of Christ to all people who seek the truth, thirsty for love and hope ", said the Cardinal Dziwisz.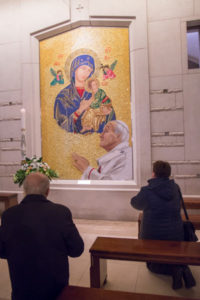 In the shrine of St. Pope John Paul II from 2005, Novena of the Mother of Perpetual Help is prayed in the weekly cycle of dedicated services. The mosaic in the church of the relic was created by the Italian artist Albano Poli.
(Www.redemptor.pl)