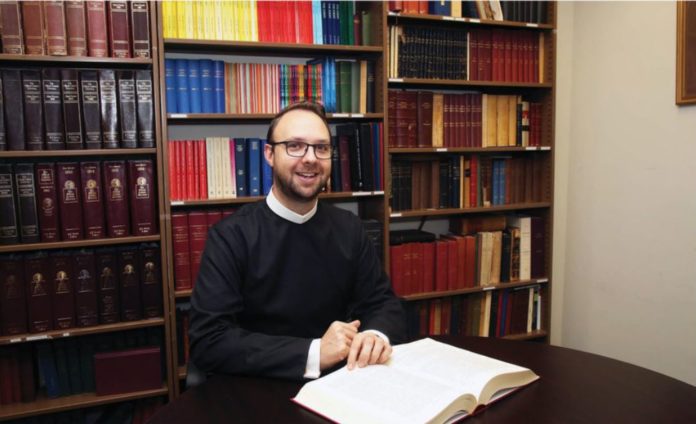 SUMMER SERVICE- Ryan Holovlasky, an Irish Redemptorist seminarian, does some reading during the final week of his summer internship at the archdiocesan Metropolitan Tribunal at the New York Catholic Center in Manhattan July 9. His duties during the six-week program included shadowing Tribunal staff and submitting written reflections to the Tribunal's judicial vicar.
—————————————————————————
Ryan M. Holovlasky speaks four languages and he's working on a fifth. He has a bachelor's degree in philosophy and he's working on a master's in divinity. Holovlasky,32, is a Redemptor­ist seminarian who, after ordination, will pursue a licentiate to practice the Church's canon law.
The native of Ireland just completed an internship at the archdiocese's Metropolitan Tribunal, overseen by Father Richard L. Welch, C.Ss.R, judicial vicar, who described Holovlasky as being "very intelligent." "He has a very keen sense of how canon law serves
the Church," Father Welch said.
The six-week internship, he shadowed Tribunal staff and submitted written reflections to Father Welch, ended July 13, and Holovlasky returned to his studies in San Antonio, at the Oblate School of Theology. He's on track for ordination in 2021. The seminarian has experienced personal struggles, including losing his younger sister to violent death in South Africa. Such challenges have enabled him to help others with their life struggles.
"As Redemptorists, that is our calling, to journey with people through the pain," Holovlasky said in a July 5 interview inside the Metropolitan Tribunal of­fices at the New York Catholic Center in Manhattan. "Most of us are mission preachers, so we go into parish life. But I've always been interested in the law. We were founded in Italy in 1732. Our founder (St. Alphonsus Liguori) was a moral theologian, but he was a canon law lawyer as well." Holovlasky noted that St. Alphonsus' focus was to reach out to the poor and the most abandoned. He said Redemptorists minister in a pastoral way, to those who are in need of help.
He also noted that much of tribunal work deals with marriage annulments, but that also prevalent are cases involving procedures related to the priesthood. The seminarian said his studies and mission work have also taken him to Chicago, Washington, D.C., and Ottawa, Canada. He said part of the reason he was drawn to canon law was the clergy abuse cri­sis that broke out in Ireland in 2004. He decided he would eventually pursue a way to help heal the vic­tims and to help heal in the Church.
"I saw the mess that it was creating in the Church, and no one knew what to do," he recalled. "And by working in the tribunals here and in San Antonio, I've seen how much good you can do- not only for people who have been abused but also for the Church."
Holovlasky said his sister was murdered in South Africa by an ex-boyfriend two years ago. Another personal challenge came seven years ago when his parents divorced. He grew up in South Africa be­cause of his parents' employment commitments; his father, who worked for the World Health Organiza­tion, moved back to his native Austria; his mother remains in South Africa. He grew up one of four children; he has two older brothers.
He entered the Redemptorists in 2012, made first vows in 2015, and expects to make final vows in 2020. A year after that, he would begin studies to obtain his licentiate to practice canon law, meaning he could serve as judge, advocate or defender of Church Law, depending on the role he is assigned to on cases. He also plans to later pursue a doctorate in canon law. In his late teens, Holovlasky ventured into the avi­ation field with the United Arab Emirates, starting as a cabin crewmember, then training other aviation workers and later working in administration.
Besides English, he speaks German, Dutch, and Af­rikaans, and is studying Italian. He will also learn Latin, which is essential for the study of canon law. He is from Dundalk, Ireland, about a 90-minute drive north of Dublin. His pastoral interests began early and "When he was 7 years old, he knew he wanted to become a priest."
Armando Machado