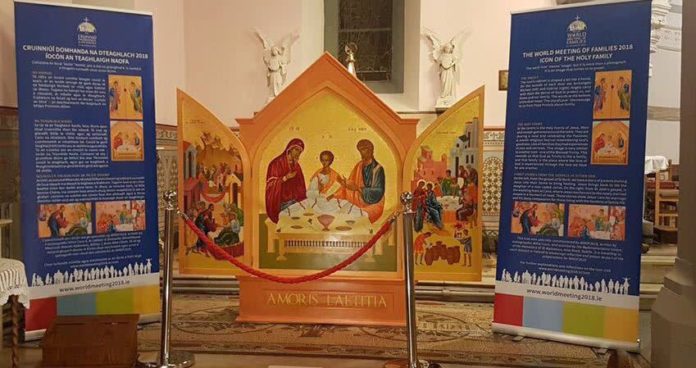 (Dublin, Ireland) – The organizers of the World Meeting of Families, which will be held from 22 to 26 August 2018 in Ireland, have commissioned for the occasion a magnificent icon of the Holy Family. Archbishop Diarmuid Martin, president of the Meeting of Families, had presented to the Pope earlier, will be at the center of the celebrations and will invite the participants to meditate on the beauty of the family life.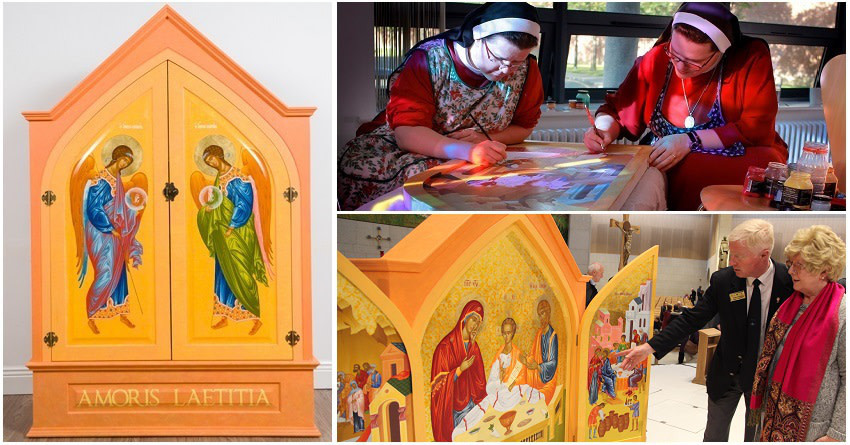 The icon was constructed in a traditional "triptych" fashion, featuring three main panels and two doors that protect it. The icon was written by iconographer Mihai Cucu, a Romanian artist, who was assisted by the Redemptoristine Sisters of the Monastery of St. Alphonsus, Iona Road, Dublin. The central panel of the icon presents the Holy Family, Jesus, Mary, and Joseph, sitting at the table and sharing a meal. This image is reminiscent of the famous 15th century Holy Trinity icon of the Russian Orthodox monk Andrei Rublev.
On either side of the central panel are two images from the Gospel narrative. The left features "the Raising of Jairus' Daughter" and the right "the Wedding Feast at Cana". Both episodes reflect the love Jesus has for family life and the struggles that families endure. The outside of the doors features the Archangels Michael and Gabriel, bowed down in adoration and in service of God.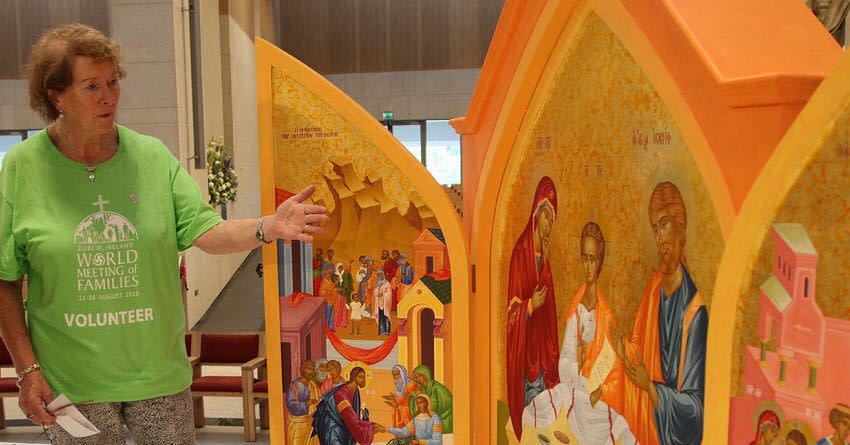 Below the doors, the icon features the Latin words "Amoris Laetitia," the title of Pope Francis' post-Synodal exhortation on "The Joy of Love." This document will be the focal point of discussion at the World Meeting of Families.
The Icon invites us to pray
With this icon, as a central element in some of the celebrations of this World Meeting of Families, we are invited to (re) discover the meaning of the icons. Derived from the Greek, the word "icon" means "image". An icon is not a photograph or a portrait. Like the Gospels, the icon invites us to prayer.
As the Patriarch Bartolomé of the Greek Orthodox Church wrote:
"An icon is not a simple religious painting and is not, by definition, a religious object. Certainly, it is a subject with which the spectator, the devotee, enters into a dialogue without words through the sense of sight. For an Orthodox Christian, the encounter with the icon is an act of communion with the person represented in it ".