Left to right: Sr. Janice Marie, Sr. Mary Helena, Sr. Maria Woranunt, a novice from Korat, Thailand, and Sr. Ann Marie (Photos by Fr. Vincent Minh)
The Redemptoristine Nuns in Liguori welcomed Redemptorists from three local communities to celebrate the 322nd birthday of their foundress, Blessed Maria Celeste Crostarosa, on October 31. Confreres joined the Sisters for Evening Prayer and enjoyed watching a documentary of Blessed Maria Celeste's life made during the late 1990s before everyone sat down to a sumptuous dinner.
The Redemptoristines are grateful for the presence and support of: Fathers John Schmidt, Byron Miller, Vincent Minh, Dick Quinn and Ray Maiser, Deacon Rick Fischer, and Brothers Dan Korn and Paul Jorns from St. Clement Health Care Center; Fr. Rich Boever and Br. Paul Yasenak from Liguori Mission House; and Fathers Steve Benden and Tom Donaldson from the "Rock" Church.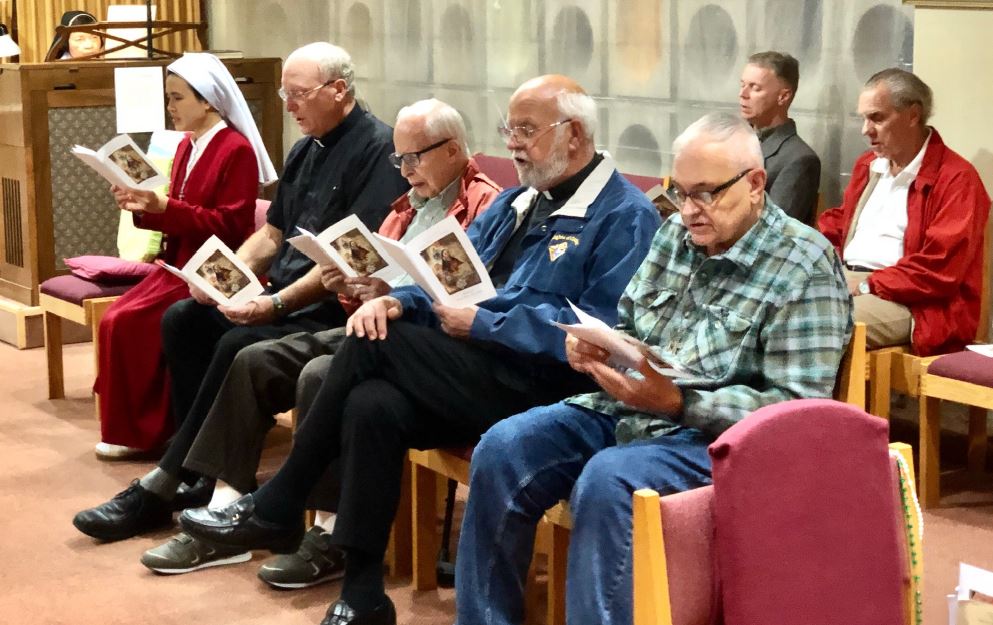 Left to right: Sr. Maria Woranunt, Fr. Steve Benden, Fr. Ray Maiser, Fr. Rich Boever and Br. Paul Yasenak (front row) with Fr. Byron Miller and Br. Paul Jorns during Evening Prayer.
by Sr. Mary Helena U. Aquino, O.Ss.R.
Denverlink 9/11/2018