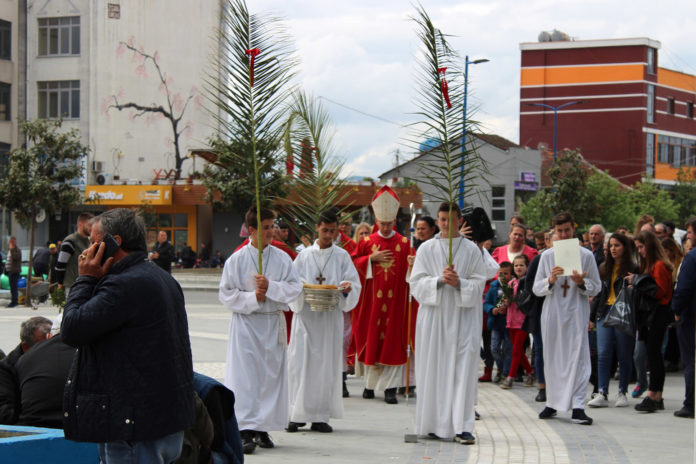 (Kamëz, Albania) The Passover Triduum has been a Passover for many years, last year I was fortunate to witness the whole Holy Week in a Cistercian monastery in Cóbreces, Santander. This year I was in Albania.
Albania is a country where we Catholics are a minority. However, it is also a country where all creeds are respected, and, without being any official religion of the State. All have their most important days designated as civil celebrations. In this way, although Holy Thursday, Good Friday and Holy Saturday are normal and school days for students; Easter Monday is a holiday, just like the following Monday, when the Orthodox celebrate Easter.
On Palm Sunday, for the first time since the Redemptorist mission in this country began, we made the blessing of the Ramos in the Plaza de Kamëz, right in front of the church; This is a recently completed square after spending more than 8 months of work, in fact, that has not yet been officially opened. But it is also a square where many people gather to hang out and play dominoes since there are not many other places for it in the rest of Kamëz. In addition, we take the opportunity to invite the Apostolic Nuncio: His Excellency Bishop Charles Brown to celebrate the Eucharist on Palm Sunday.
I was very impressed as we started with the blessing of the branches, the reading of the Gospel on Jesus' triumphal entry into Jerusalem, next to a large group of men playing dominoes and shouting, without realizing that there was a celebration of an act of public worship. More than once, some parishioners have gone to ask for some silence. It made me think that this must have been the case for Jesus, frequented and listened to by some, but ignored by the great majority of the inhabitants of the earthly Jerusalem.
The rest of the week took place like Palm Sunday, Holy Week is not relevant, no processions in the streets, no holidays, no hooded men (like in Spain), the streets without the smell of incense. It's a different week. This is why we need to make an extra effort to enter the dynamics of Holy Week. Holy Thursday, at the end of the day, together with P. Laureano we went to accompany the cloistered nuns Servants of the Lord and of the Virgin of Matara, in their spiritual center which is the monastery of Arrameras, in a moment of Eucharistic adoration to make us aware of the fact that we are remembering the most important moments in the life of Jesus Christ.
Br. Álvaro Ortiz C.Ss.R
Albania Mission