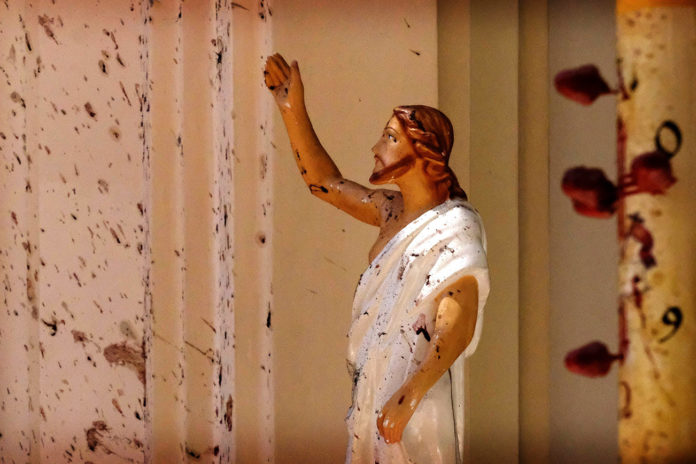 Sri Lanka is coming to grips with the scale of the tragedy which unfolded on Easter Sunday morning.  About 8.45am local time, six near-simultaneous explosions occurred across three churches, including the very popular St Anthony's Shrine, Kochchikade (Colombo District) and St Sebastian's Church, Katuwapitiya (Negombo District) and three hotels.
Latest reports confirm 310 dead, including more than 30 foreigners, with the wounded numbering more than 500.  The images of the carnage and death, especially from the churches, are horrific and distressing.
Thankfully, all the confreres of the Region of Colombo are safe and none of the Region's churches or properties were affected.
During the 9.45am Tamil Mass on Easter Sunday the police arrived at the Redemptorist Church of St Theresa's in Colombo and requested that mass conclude immediately and people return home.  All further masses for Easter Sunday were canceled and the church was searched, secured and premises locked.  As Sunday unfolded, other explosions took place in the greater Colombo area and eventually the country was placed under curfew and social media platforms were shut down.
All churches within the Archdiocese, including St Theresa's in Colombo, will remain closed until the clearance is received from the Cardinal and the security forces.  At present, there are police guards in the church premises along with the usual church security officer.  On Easter, Sunday night further searches using sniffer dogs, were carried out in the church and in community areas and the 'all clear' was again given.
No incidents were recorded in Kandy, although security was strengthened and the police did visit the Region's 'mother house' Sancta Maria.
Already extensive investigations have seen a number of people taken into custody for questioning in order to determine who is responsible and whether there are links to terrorist networks from overseas.  It's likely that it's the work of Islamist extremists.
Curfews were imposed on Monday and Tuesday nights and lifted in daylight hours.  Social media is operating on a limited basis.  The Region commends the police and military for the protection they are providing and for the dedication and vigilance with which they are investigating and seeking to bring the perpetrators to justice.
The Region is also most grateful to the Redemptorist Family from across the world for the messages of support, solidarity, and prayers.  Please continue to remember our small island nation in your prayers, especially the victims and their families.  All of us here cling on to the great hope that we are Easter people and the Risen Christ is with us.
David J. Hore, C.Ss.R.