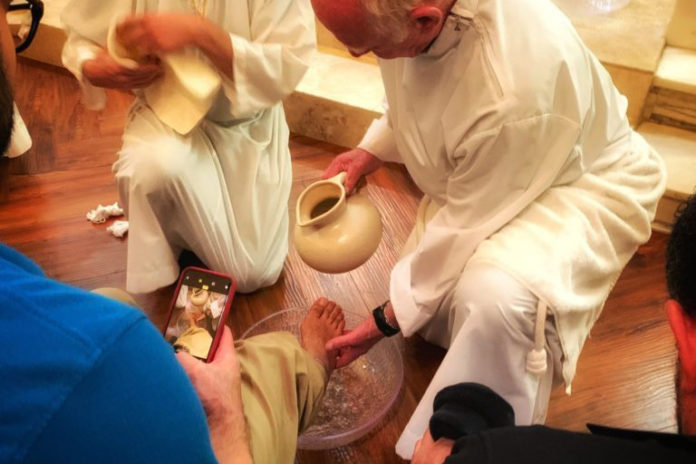 "When anything happens, it happens on Twitter first"
(Denver, USA) – Thien Hoang, a theology student for the Denver Province in San Antonio, is sharing his creativity and interest in social media, gradually assuming responsibility for posting Redemptorist news on Twitter. The account, @prayforusmary, is linked to the Perpetual Help Facebook site.
Thien posted a series of tweets during the Triduum, including this photo of Fr. Jim Shea washing a student's feet on Holy Thursday. The result? A significant leap in followers and retweets of Denver Province news – from single to triple digits!
Let's sustain the momentum for Thien's online work for the Denver Province on Twitter. Follow @prayforusmary and retweet Thien's posts to help us share news from the Denver Province.
Submitted by Kristine Stremel

MaryPrayForUs.org
@PrayForUsMary
The Redemptorists of the Denver Province are a Catholic Religious Order preaching the Good News of Jesus to the poor. Follow us at #prayforusmary.
United States, redemptoristsdenver.org