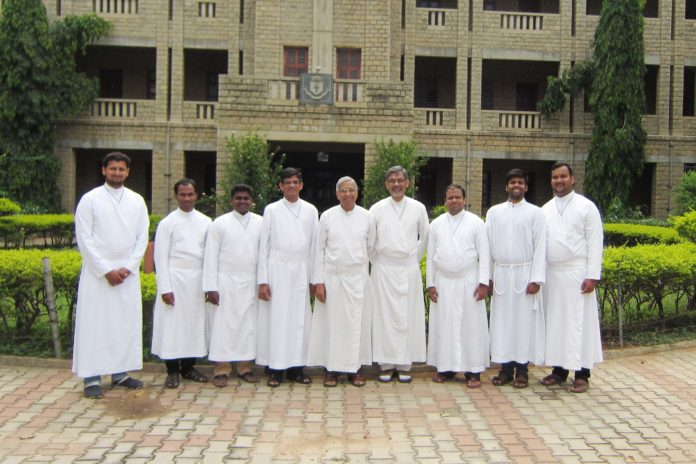 (Bangalore, India) The 3rd June 2019 marked the Inauguration of the Pastoral Year (Transition to Ministry) for the Province of Bangalore and the V. Province of Majella. This important stage of formation for 10 months is a well-planned course to enable the young Redemptorist Missionary Priests to make the transition to Ministry.
The Pastoral Year was inaugurated with mass presided over by Fr. Joseph Ivel Mendanha, C.Ss.R. (V. Provincial of Majella). Fr. Edward Raju, C.Ss.R. (Provincial of Bangalore) was present and addressed the group.
There are 6 Redemptorist Newly Ordained Priests (3 from Bangalore: Deepak, Ananthraj, and Thambi; 3 from Majella: Noel, Juvance and Agnelo). The Pastoral year is led by Fr Xavier Sanjivi, C.Ss.R. of the Bangalore Province assisted by Fr Juventius Andrade, C.Ss.R. and team.
Fr. Ivel preached on the importance of shedding the Priestly glamour which distracts from ministry and being closer to people especially the abandoned who are wounded and for him we proclaim the Gospel. He urged the young missionaries to follow St. Paul in being persuasive in proclaiming the Gospel and take heart from Jesus who is our comfort in troubled times.
Fr. Edward reminded the group that the General Chapter has called us all to avoid clericalism and embrace our Redemptorist calling as Religious and so we shun the clerical attitude by serving always rather than being served. He called on the young Redemptorist missionaries to grab every opportunity given to be proficient in different types of ministry esp. Migrant Ministry for Majella and Ministry to Families in Distress for Bangalore so that the wounded would profit from our apostolic labours.
The Pastoral Year will begin at Mt. St. Alphonsus in Bangalore for the first couple of months and then move to St. Gerard's in Bangalore. The Young missionaries will be trained in Homiletics, Parish Mission preaching, Retreat preaching, Parish ministry, Youth Ministry, Financial and administrative skills, Migrant Ministry with immersion experience and other forms of missionary activity.
The Pastoral Year will end with Easter 2020 in a formal commissioning ceremony.
Fr. Ivel Mendanha, C.Ss.R.