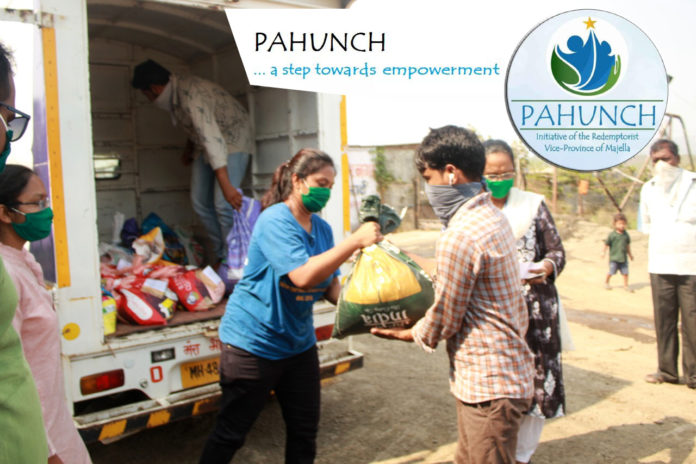 (India) The Corona Pandemic has brought life very much to a standstill in the city of Mumbai. We are still finding our way to live in a manner that is best fitting the Lockdown situations. Since the Lockdown began from the 24th March 2020, the 31st May 2020 will be the 68th day of the Lockdown in India. The situation in and around Mumbai still looks gloomy. Healthcare is in a precarious situation, the financial burden is increasing, and the people particularly the migrants have been at the losing end. Many laypeople, Social groups, NGO's and some Religious are doing their best in responding to the pressing situations. PAHUNCH – a step towards empowerment has been at the forefront working on the field with the Chhotanagpur Adivasi migrants in Mumbai. It is a joint initiative of the laity and the Redemptorists of the V. Province of Majella. The Redemptorists in India, especially the Vice-Province of Majella has been actively involved in assisting by giving relief through PAHUNCH.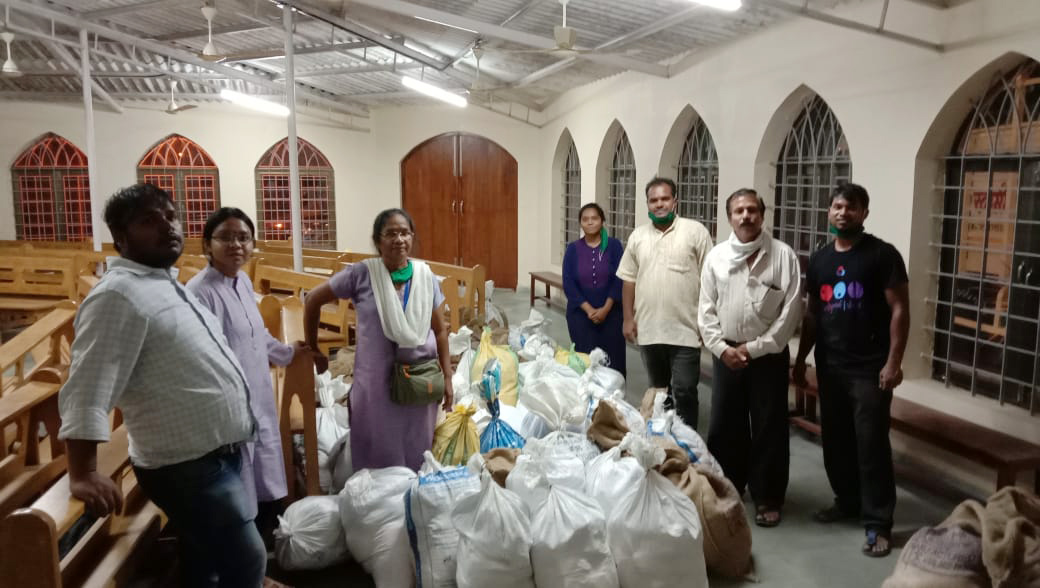 PAHUNCH immediately began their work by assessing the situation and designing a Three-Level intervention: Relief, Sensitization, and Counselling. The R&D team developed a counseling module to help the community battle COVID – 19. This pandemic has not only affected the physical health of the people but also mental health. The PAHUNCH animators wonderfully executed this. They have also sensitized the people about the importance of social distancing and maintaining good health and hygiene.
As the situation began to worsen, the co-founders of PAHUNCH, Fr. Andrew Dantis, C.Ss.R, and Mrs. Mary Goretti Xalxo, a Medical Social Worker, and staff from Elizabeth Hospital approached their generous donors and friends to help in providing food grains and essential goods to the Chhotanagpur Adivasi migrants. Later they extended their outreach to the Jankipada, Vasai East (North of the city of Mumbai) migrant community. The majority of the population of this community are migrants, domestic help, laborers, and daily wagers. Food and essentials have been provided to these families to last for a couple of months and this continues.
As the lockdown continued, people started expressing their desperation of going back home. When asked why they wanted to go back, they said they did not have money to pay their rent. When the lockdown was at ease, these migrants called their employers so that they would resume back to work and save few pennies, since these areas fall under the red zone the companies continue to remain closed. This left them with the only option of leaving for their hometown. Many of them left in rickshaws, tempos, trucks, and buses covering more than 1000 km.
After seeing people in immense need for service on the highway, Mrs. Pallavi Xalxo, Assistant Professor at College of Social Work Nirmala Niketan, Co-Founder of PAHUNCH and R&D Manager, coordinated and collaborated with different organizations that could help on the National Highway to these Yatris (travelers) by providing food and water. This ensured that our yatris did not starve or fall sick and travel with dignity.
These migrants also applied to travel by the Shramik train, but only a few were fortunate to travel via this mode of transport.
Looking at the struggle of these migrants, the Alumni of the National Law School of India University, Bangalore (NLSIU) had organized an airlift, first flight from Mumbai to Ranchi. Mrs Pallavi Xalxo contacted the NLSIU enquiring if we could send our Chhotanagpur Tribal Migrants living in Jharkhand and very promptly, they asked to prepare the list of people who wish to travel back. Hearing this joyous news the entire team of PAHUNCH got to action and gathered 24 Chhotanagpur Adivasi yatris. 28th May 2020, the Alumni of the National Law School of India University, Bangalore arranged for an entire AirAsia Airline that had 177 passengers on board to Jharkhand.  The National News channel (NDTV) featured this outreach and Fr Andrew Dantis was interviewed by national TV about this extraordinary outreach in treating migrant people with dignity to enable them to fly home.
My good friend and ordination batch companion and fellow-Redemptorist, Fr. Andrew Dantis, C.Ss.R., being interviewed by NDTV for the work he and the team were doing to help migrants go back to their villages during the lockdown in Mumbai. So thankful for his courage and love! God love you Andy! JESUS LIVES IN YOU.❤

Pubblicato da Sandeep Menezes Cssr su Giovedì 28 maggio 2020
While this is just the tip of the iceberg, a lot is yet to be achieved. As of now, the Pahunch has provided over 1500 families with food and basic essentials to last more than 2 months and this will continue further as lockdown is further increased for another month. More migrant daily workers are being helped to get on the flights from Mumbai to Ranchi so that they can avoid eviction from their rented apartments and tenements and return to their homes.
The Redemptorist Outreach to stranded migrant workers and their families continues through the work of Fr. Andrew Dantis, C.Ss.R. the Executive Director of PAHUNCH and his team…
Ivel Mendanha, C.Ss.R.