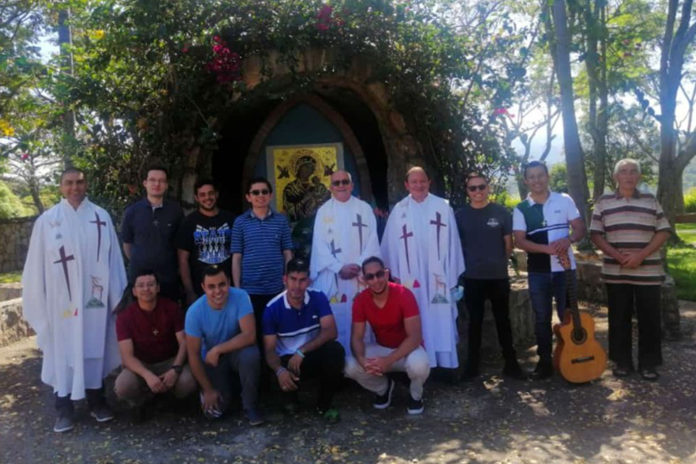 (Colombia) The Second Novitiate was formally opened with a solemn Eucharistic celebration presided over by Fr. Luis Carlos Jaime (Provincial Superior of Bogotá) and concelebrated by priests Carlos Humberto Pérez Triviño (Master of Novices – from the Chilean unit) and Fr. Jimmy Mantilla (Superior of the Retreat house) last Sunday, January 3, 2021, at the "Villa Marianella" retreat house, Chinauta, Colombia.
This time of grace has the participation of Fr. Carlos Pérez, Novice Master and 9 young people from units of Latin America and the Caribbean: Bruno Fernando Nuñez Avila, Luis Alvarenga Pereira and Juan Alberto Nuñez Ortiz from the Province of Paraguay; Selvin María Barrios from the Province of Central America (Guatemala); Nolberto Fernández Hilario from the Province of San Juan (Dominican Republic); Charlie Pérez Castillo, Cristian Mauricio Aza Hernández, Óscar David Tarazona Trujillo and William José Bautista Ramírez from the Province of Bogotá (Colombia).
Each of the brothers has arrived with great joy and willingness to live the experience prior to the Perpetual Profession. The cultural exchange and another series of aspects enrich this time because of the different dynamics and perspectives that have developed within the particular formation processes of each unit. As such, this second novitiate has as its objective: to review, strengthen, and project the living out of the dimensions of Redemptorist being and doing in view of the definitive consecration within the Congregation.
In addition to this, the fraternal atmosphere that has been developing during these days has been rescued: prayer, sports, recreation, formative spaces, and other elements have constituted a beautiful community dynamic as Redemptorists.
The program will be worked on for weeks as described below:
– First Week: Human-Affective Dimension / Fr. Carlos Pérez Triviño from Chile
– Second week: Community dimension / Fr. Jairo Silva Jerez from Colombia
– Third week: Missionary dimension / Fr. Javier Machado from Argentina
– Fourth week: Spiritual Dimension /P. Cesar Torres from Peru
– Fifth week: Vocational dimension / Fr. Gustavo Doldan from Uruguay
– Sixth week: Retreat / Fr. Laureano Hurtado from Colombia
Brothers of Second Novitiate, Colombia.