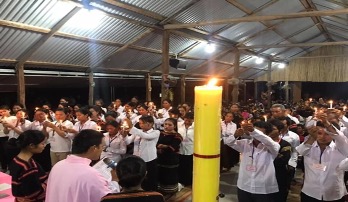 (Gai Lai, Vietnam) – The Redemptorist mission to the J'Rai ethnic minority in Gia Lai province joyfully welcomed 300 adults to be baptized during the Easter Vigil on April 3rd, 2021.
J'Rai mission area was established in 1969 when the first three Redemptorist missionaries being "thrown" into the forest as aliens among the J'Rai Montagnards without shelter, money bag or stick. During Easter Vigil 1976, the first 12 catechumens of the J'Rai ethnic minority were baptized. Since then, the J'Rai mission has begun to flourish in more than 100 villages, with about 300 to 400 catechumens baptized every year.
Currently, the J'Rai mission area is divided into 3 sub-mission centres consisting of 40,000 Catholics and about 10,000 catechumens who are mostly poor. This mission area is cared for by 25 Redemptorists who deeply integrate into the J'Rai culture. They live among the J'Rai people, speaking and preaching by the J'Rai language.
Fr. Dominic, C.Ss.R.