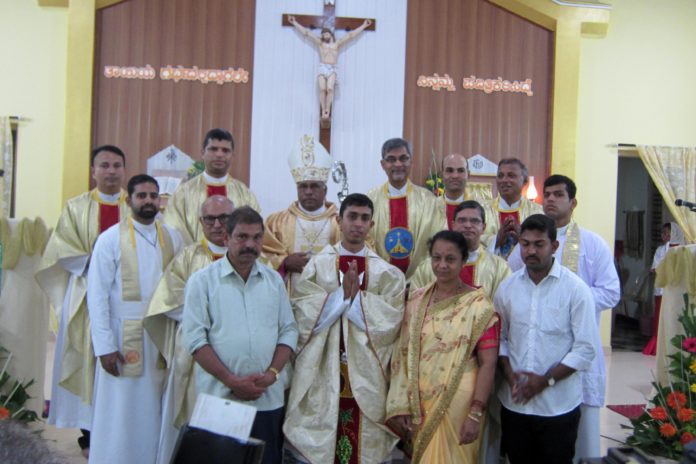 (India) The 23rd and 24th of April were important days in the life of the V. Province of Majella. The V. Province gives thanks to the Lord for an amazing story of a Redemptorist Missionary Vocation. Fr Ashwil Dias, C.Ss.R. was ordained a priest at his parish church of St. Theresa of the Child Jesus in Marvinkere in South India.
Despite the lock down forced due the pandemic the ordination went ahead in the Church behind closed doors and followed by the family members, religious sisters and a few Redemptorists and local clergy. Bishop Francis Serrao, SJ, Bishop of Shimoga who ordained Fr Ashwil called on him to follow Jesus the Redeemer who was a Shepherd and Servant of his people through the ministerial priesthood as a Redemptorist. Despite the lockdown God's grace was manifest as everyting went peacefully in a simple but solemn ordination service.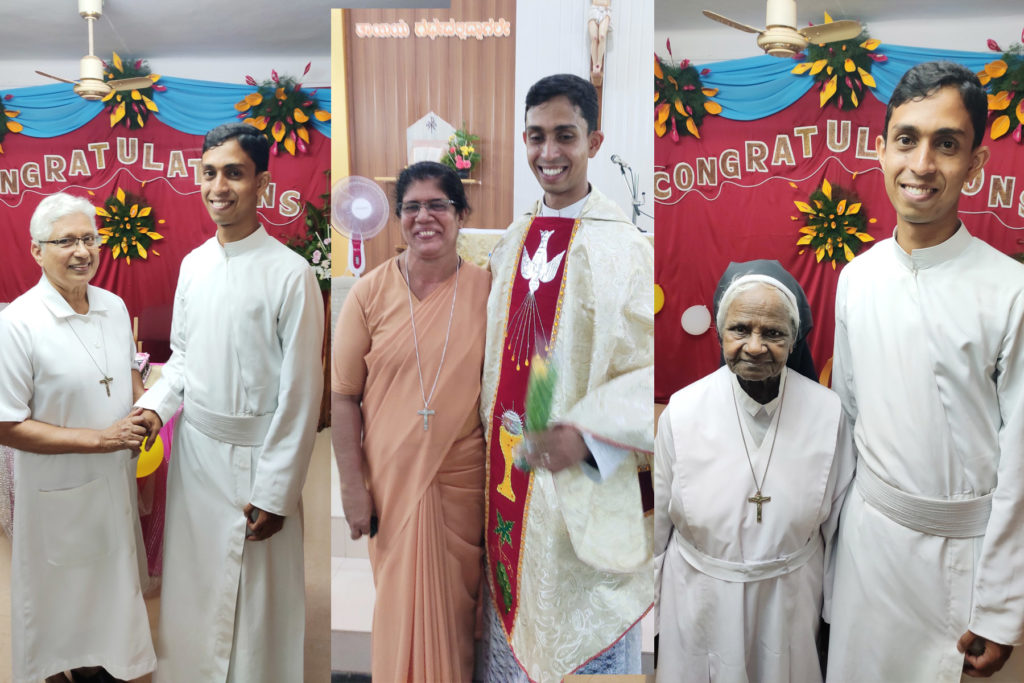 Fr Ashwil Dias was a 7 month premature baby who was cared for in an incubator in the mission hospital run by the St Charles Borromoeo Sisters led by Dr Sr Regina SCB. The baby survived the ordeal thanks to the care of Sister Regina, he was later guided to his First Holy Communion by Sr. Maria SCB another sister of the same congregation and then led to the Redemptorist Congregation by Sr. Carmine SCB also of the same congregation. All three Religious Sisters would be present at his First Holy Mass celebrated on the 24th April, the 50th Birthday of the mother of Fr Ashwil, in the chapel of the same sisters in the same town. A truly joyful ocassion to give thanks to the grace of God at work in the life of this premature baby now a Redemptorist MIssionary Priest. 
The V Province of Majella gives thanks to the Lord for Fr Ashwil Dias, C.Ss.R., his parents Anita and Valerian Dias, his young brother Wilson who joyfully gave of their son and brother to the Congregation. We also thank the three sisters, Doctor Regina, Sr Maria, and Sr Carmine who played an important role in the vocation of this young Redemptorist Missionary and all the sisters of the Community who helped organize and plan for the ordination and First Mass.
We pray that the grace of God so powerful in the life of Fr Aswhil from the time he was born premature and nursed in an incubator to the grace of Priestly Ordination as a Redmeptorist now flower in his life as a witness of the Redeemer in Solidarity for Mission to a wounded world.
Joseph Ivel Mendanha, C.Ss.R.