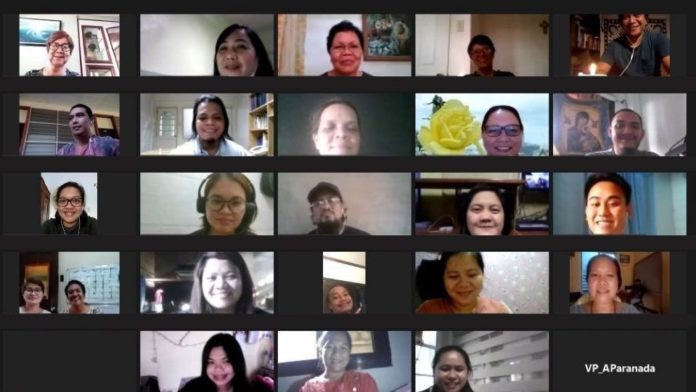 With the theme "Redemptorist Lay Partners in Mission: Gifted Givers," the Redemptorist Vice-Province of Manila held a one-day Lay Partners' Assembly organized by the Permanent Commission on Lay Partnership in Mission (PCLPM) on April 10, 2021.
The two-point objective of the zoom conference are (1) to reflect on the gift of faith they received and the role of lay partners in mission as their gifts to give to others; and (2) to establish a sense of connectedness in this time of pandemic where physical distance is observed as a way of life.
Present in the online conference representing the five communities of Baclaran, Laoag, Legazpi, Lipa, and Mariposa were lay missionaries, staff, volunteers, associates, auxiliaries, and oblates of the Vice-Province together with some professed Redemptorists.  It was further graced by the presence of the lay and professed representatives from some communities of the Province of Cebu, Vice-Province of Tokyo, Vice-Province of Majella and Vice-Province of Bangalore.
Mr. Gerardino Loyola, a lay theologian and missionary assigned in Lipa, led the morning's theological reflection on "Gifted Givers." In the afternoon, Ms. Roksan Latorre, a member of  the General Commission on Partnership for Mission and the convenor of the PCLPM, presented the General Directory on Partnership in Mission followed by updates from the Conference Commission on Partnership in Mission shared by Ms. Portia Awayan, the Commission head.
Participants were able to share insights through the break-out rooms reflecting on concrete suggestions to deepen, develop and strengthen lay collaboration in God's mission not only within the vice-province but also in the Asia-Oceania Conference.
The online gathering ended with a hopeful note that with or without pandemic, both lay and professed, are all called to be partakers of the Redeemer's mission in a wounded world, unwavering in the desire to preach God's plentiful redemption to the lost, the least and the last.
Fr. Rico John Bilangel, C.Ss.R.