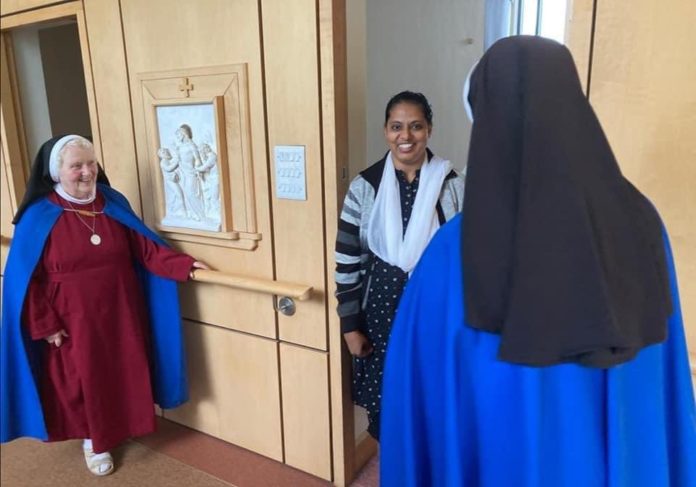 (August 14, Dublin, Ireland) – A simple but beautiful and moving ceremony, incorporated into vespers of the Solemnity of the Assumption of the Blessed Virgin Mary, marked the beginning of a new candidate to start her monastic life in the convent. During the celebration this evening, Bindhu was received into the Redemptoristine community as a postulant.
The Sisters shared their joy posting on their website: we are glad to have Bindhu with us and ask you to accompany her with your prayers as she seeks to respond to God's call with love and generosity.
On the Sisters' website, the candidate to the monastic life can find an inspiring outline of the Redemptorist nun vocation showing a path of spiritual formation that she is invited to take up:
As a Redemptoristine Nun, she will connect our world to heaven, through hours of prayer, work and silence. Her life will be one of simplicity and order, of meditation and creativity.
Yet, there will be a wonderful humanity and kindness that filters from the monastery through prayer and an unfailing devotion to life.
In Lectio Divina, the discipline of reading the scriptures in order to listen to the Word of God with the ear of the heart, she becomes transformed into his viva memoria (living memory) of Christ (Blessed Maria Celeste Crostarosa). She waits his coming and ponders on the promise of God to be with us.
Joy is the hallmark of the Redemptoristine charism and springs from the certainty that God is close. He is within, in times of joy and sadness, in times of sickness and in health, and this joy endures, even in difficulties, in disappointments, in suffering itself.
source: REDEMPTORISTINE NUNS