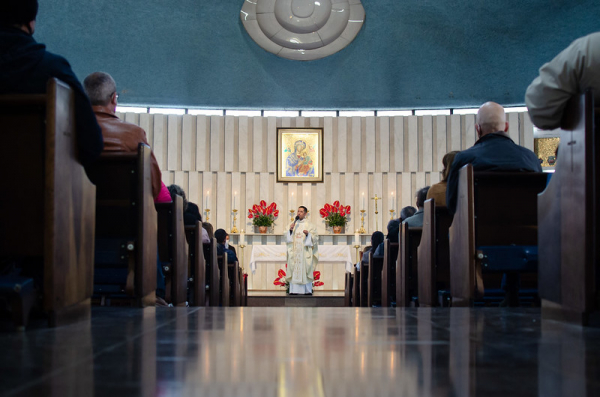 Next Saturday, October 2nd, the Shrine of Our Mother of Perpetual Help in Curitiba, Brazil, will begin the centennial celebrations of the perpetual novena. Since the Capela da Glória was the starting point of devotion for the people of Curitiba, the programme will start there, with a procession of candles, starting at 7 pm, to the Shrine. At Praça Portugal, the music of the Band of the Military Police of Paraná will welcome the pilgrims. The opening mass is scheduled for 7:30 p.m. and will gather the Redemptorist Community and several invited religious congregations, as well as devotees of Our Mother.
"To celebrate 100 years of the novena is to give great praise to those who have gone before us. It means having a grateful heart for those who nurtured the devotion, being faithful to the novena that comes to us today, with the gift of nourishing our faith and hope. It is time to strengthen this devotion within us with the commitment to bring it to many who do not yet know it, to perpetuate it in the hearts of the world and every devotee of Our Lady of Perpetual Help. It is time to celebrate, to rejoice, it is time to glorify God for these 100 years of spreading the faith and devotion of the Novena", said Father Celso Vieira da Cruz, C.Ss.R., rector of the Shrine.
History of novena
The origin of the novena took place on July 11, 1922, inspired by the heart of Father André Browne, a Redemptorist Missionary and pastor of St. Alphonsus Parish, in Saint Louis, Missouri (USA). On that day, after contemplating the prayers created and performed by the Archconfraternity of Our Mother of Perpetual Help, the priest felt it was essential to hold spiritual exercises every Wednesday.
Graces and miracles happened, and the devotion quickly spread throughout the world. Novena became the most distinctive form of devotion to the Mother of Perpetual Help. And it is through it that the Redemptorist Missionaries were able to fruitfully work in the mission entrusted to them by Pope Pius IX in 1866: to make the Mother of Perpetual Help known throughout the world!