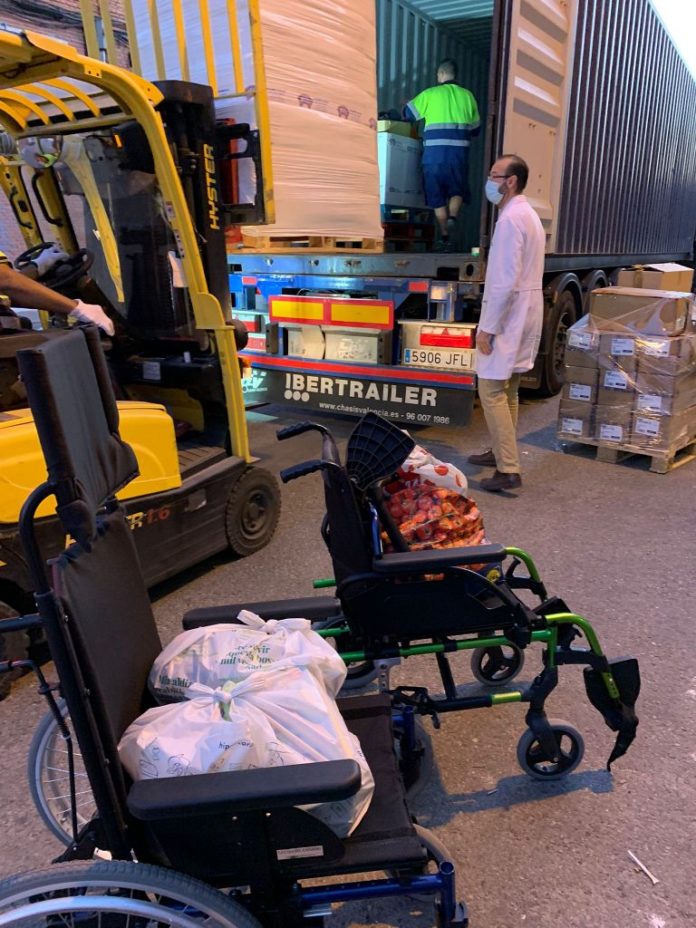 On the same day that the container sent a month ago was taken out of the port of Lafito (Haiti), we have loaded the second one this Friday, 8 October 2021, also destined for Haiti. It is already on its way to Valencia.
On this occasion, in addition to 10,000 kilos of rice, 5,000 kilos of lentils and another 5,000 kilos of beans, there are 35 tents, 50 mackintoshes and 20 unused sleeping bags. The Hélade school in Boadilla has contributed various materials. Others, such as the Consolación school, have made financial donations that, together with friends of the Santísimo Redentor parish and Acoger y Compartir, have made this second shipment possible. Two pallets of oil and two wheelchairs. On top of the pallets and the free spaces on the sides, more than 300 bags of food provided by the Sanchez Romero establishment have been placed. Finally, there are three solar cookers located by Merche Mas. The Irish Redemptorist NGO, SERVE, has joined in solidarity with this shipment by assuming the freight costs and transport of the container.
In addition to a big thank you to all of you who have made this second shipment possible, I ask that we pray that its distribution will be possible without significant problems despite the increasing violence and insecurity in Port-au-Prince and the rest of the country.
Thank you all very much!
P. Miguel Haro CSsR