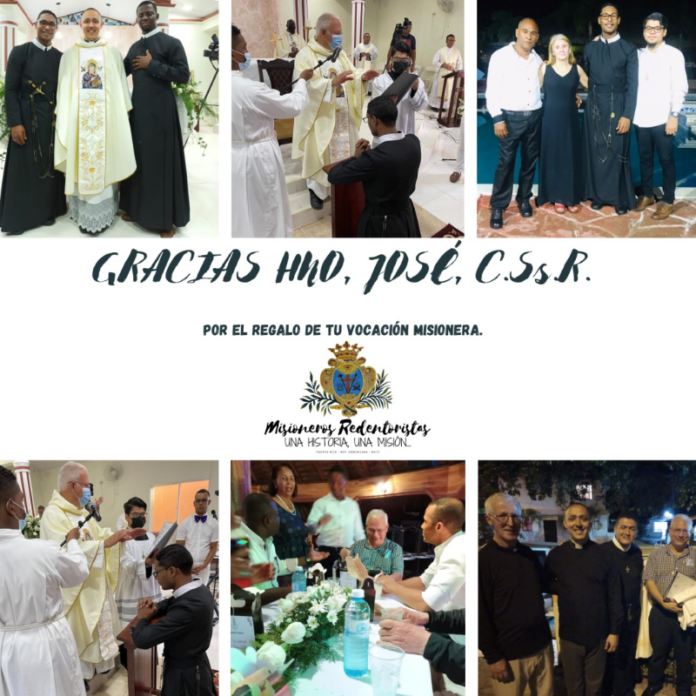 (Puerto Plata, Dominican Republic) On the eve of St. Joseph's Day, we the Redemptorists of the Province of San Juan (3900) thank God for the gift of the perpetual profession of José Peña CSsR, that took place on March 18, in the northern area of ​​Quisqueya la Bella, in the Dominican Republic.
This son of Quisqueya forged his vocation, as a fundamental key, from his reality and his family upbringing, simple, but based on the Christian values, and as a good citizen. So, we can say today: THANK YOU, Frater José Peña, C.Ss.R., for taking the definitive step towards missionary dedication as a Redemptorist!
Brother José, C.Ss.R. had the opportunity to participate in the missions, as well as in his interprovincial formation process. His first formation was in the Casa San Gerardo, in Cotuí, in the Dominican Republic and then in the province of Colombia, to then culminate in the province of Central America. This was important for his formation period and that is why he gives us this resounding YES to missionary and Redemptorist life today.
After taking this step, his new post will be in the parish mission of Azua, in the Dominican Republic. There he will collaborate and live in the community with Fr. Luis A. Adorno, C.Ss.R. and P. Jonás Seide, C.Ss.R. Without any doubt, this integration of Br José, C.Ss.R. in the mission of Azua will be a blessing and a dynamism for the community and its parishioners.
An arduous work to bring abundant redemption awaits our dear Brother José, but we know that with his life of prayer and, above all, the love he has for the congregation, his charisma, and his spirituality, will undoubtedly be the best resources.
How beautiful it is to have you as a soldier of the Redeemer and son of St. Alphonsus! Go ahead and remember that you have the support and prayers of your entire Redemptorist community in the province of San Juan, (Puerto Rico, Haiti, and your beloved Quisqueya). All your confreres, laypeople, associates, volunteers, collaborators, in short, the Redemptorist family, we are celebrating, and we are happy on this day. Thank you, Brother José, C.Ss.R. for this resounding YES that fills us with hope and enthusiasm in the missionary journey of the province and of each one of us who love and live this Redemptorist life! May Mary our Mother of Perpetual Help intercede for you.
(MRedentoristas.com)