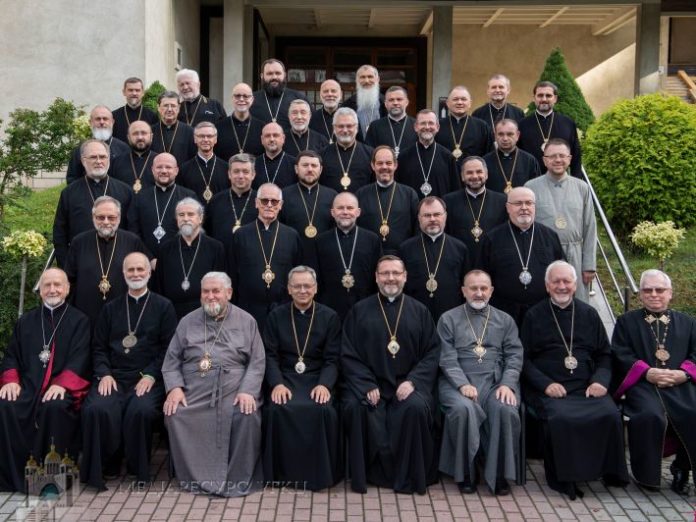 During the Assembly of the Synod of Bishops of the Ukrainian Greek Catholic Church (UGCC), which took place from 7 to 15 July 2022 in Przemyśl (Poland), the members making up the Permanent Council of the UGCC Synod of Bishops were elected.
The members are Bishop Bohdan Dzjurach CSsR, Apostolic Exarch for Ukrainians of the Byzantine Rite in Germany and Scandinavia, Bishop Borys Gudziak, Archbishop and Metropolitan of Philadelphia, Bishop Volodymyr Yushchak, Bishop of Wrocław-Koshalinskiy, and Bishop Josaphat Moshchych, Bishop of Černivci. The Permanent Synod is presided over by the Father and Head of the UGCC, His Beatitude Sviatoslav Shevchuk.
At the same time, alternate members were elected to replace the members of the Permanent Synod in case of extreme necessity. They are Mgr Bryan Bayda CSsR, Bishop of Toronto and Eastern Canada, Mgr Teodor Martynyuk, Assistant Bishop of Ternopil-Zboriv, Mgr Yaroslav Pryriz CSsR, Bishop of Sambirsko-Drohobytskyi, Mgr Mykhailo Bubniy CSsR, Exarch of Odessa.
Immediately the day after the closing of the UGCC Synod of Bishops, on 16 July, the first meeting of the new Permanent Council took place. During this meeting, the bishops summarised the results of the Bishops' Synod, analysed its proceedings and made decisions on other issues within the competence of the Permanent Synod.
A total of 40 bishops of the Ukrainian Greek Catholic Church from Ukraine, Central and Western Europe, North and South America, Australia and invited guests attended the Synod.
The official communiqué and resolutions of the 2022 UGCC Synod of Bishops, held in Przemyśl (Poland) from 7 to 15 July, will be published later.
The Information Department of the UGCC / photo from news.ugcc.ua