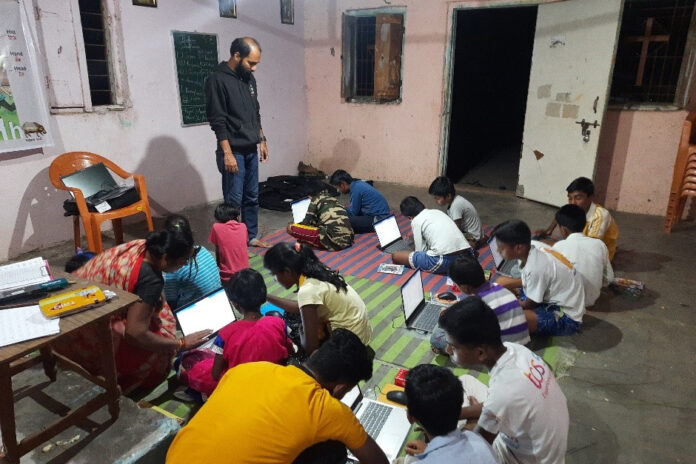 (Nasik, India) The Redemptorist community at Panodi of the Vice-Province of Majella, Mumbai is educating and forming around 190 children from 7 different villages through their non-formal educational project, "I Will Learn". The project provides tutoring to children belonging to the underprivileged section of society, mainly from scheduled tribe and scheduled caste. The main objective of this project is to help children learn English, Basic Computers, and Mathematics.
The 'I Will Learn' project is presently in its Phase -II. In Phase -I, we began by teaching them the basic English alphabets and words. As part of Phase- II of this project the children were introduced to Computers and were taught the basics of computers i.e., parts of computers, typing, and MS- Word.
Here are a few experiences we like to share: A parent of a child exclaimed, 'For the first time in my Life there are so many computers in our village.' Another villager said, "I have never touched a computer/laptop in my life, this is the first time, thank you!' The beneficiaries (students) expressed their gratitude and said, 'It is so much fun learning computers, we did not even know how to switch on a computer/laptop or even type on a computer thank you for teaching us!'
The children from these villages were not able to access computer learning in the 21st century. Now with our classes under the Redemptorist 'Sanjeevan Seva-Rakshan Trust' (SSR) they will be able to access computers and learn basic English. In the coming months, we hope to extend our services to three more villages. With the blessings of God our Redeemer we wish and desire to be Missionaries of Hope in the Footstep of the Redeemer.
Your support and prayers are much appreciated towards the project.
Thank you.
Note: To know more about us and support us you can contact us at our email id-   
Fr. Jerry Fernandes C.Ss.R. & Fr. Savio Fernandes C.Ss.R.
Project Animators